USA: Ruined roof of Silverdome apparently is a good thing
source: MLive.com / thedetroitsportssite.com / Kare11.com; author: michał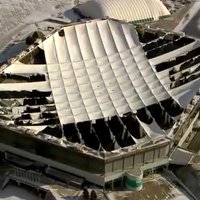 It's been two days now since media storm began over Silverdome roof, which has been torn vastly by cold winds. But venue operator assures this is a good thing. Why?
Silverdome in Pontiac, Michigan has been a burden for quite some time. Despite great history (with John Paul II or 1994 World Cup visiting the place), financial results were disappointing and so it was sold for less than $600,000 in 2009, owned by Canadian Triple Investment Group since.
There were various plans of renovating it since then and last one finally came to fruition a few weeks ago. It envisages audience layout being changed and pneumatic membrane roof replaced with a steel-supported permanent structure. It seems that domes made of hot-air-supported membranes are long gone with most such structures being replaced with new ones after series of problems with sustaining them.
In Pontiac air was deflated on Jan 3, with the membrane falling significantly, not being visible by pedestrians any more. So it was quite a surprise when TV helicopter caught such an image two days back:
A media storm first started in Pontiac, then the photos of roof destroyed by cold wind went global. But Triple Investment Group assures there is no reason to panic – they knew winter would damage the roof when it loses its proper position. Moreover, TIG have been quoted to say that it's even better as dismantling crews will have less work.
As for the interior, it's been protected from elements before roof deflation, so no damage has been reported there. New roof should be in place by July this year.