New design: Lionel Road Stadium
source: StadiumDB.com; author: StadiumDB.com team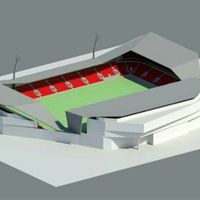 After over a decade of attempts and different visions it seems to be in place – the plan for a new Brentford FC stadium. A new and completely unique 20,000-seater may be opened in London in mid-2016.
First plans for a new stadium for Brentford FC date back to 2002, when the club officially announced the will to relocate about 1km east, near Kew Bridge. Plans were put on hold and waited years, though, until in June last year Brentford bought 7.6 acres (31,000sqm) of land in the desired location from Barratt Homes.
This brought back hope to switch the 12,000 Griffin Park to a new 20,000-seater. But the new plot of land has both good and bad sides. What will surely matter for fans, it's less than a mile away from the current venue (just 800 meters). But what makes planning more complex is that the plot is surrounded by railway lines from 3 sides and is in fact triangle-shaped.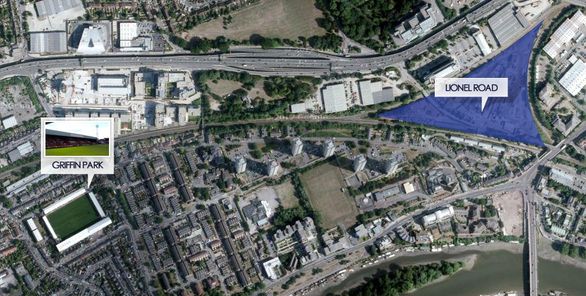 No wonder that fitting a 20,000-seat stadium became a challenge. But looking at initial renderings we may say that the outcome is a success – stadium with unique shape, differing from so-called 'identikit stadia' built across the UK. Three stands have double tiers with just one being lower and single-tiered.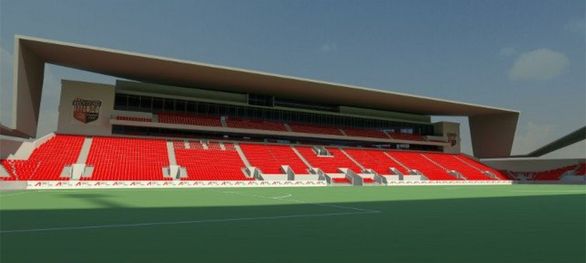 Social consultations began in mid-January and only after all views of the community are taken into account may we expect a final vision for the stadium and a planning permission from Brentford. The club seems to be determined and already gave a planned opening date for 2016/17 season inauguration.