Hungary: Works in Debrecen to start tomorrow
source: nemzetisport.hu; author: michał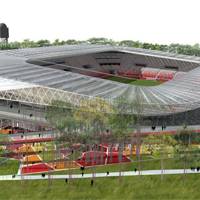 Works on the new 20,020-seater are set to begin just three days after tender validation! Demolition of the old stadium will begin tomorrow and in a year we should see the structure of new stands at that location.
Current stadium of Debreceni VSC is just 500 meters south from the outdated Nagyerdei Stadion, which will seize to exist tomorrow. The "Hajra Debrecen" consortium was announced to start demolition works on January 29. This means contractors are to move in just three days after tender decision was validated (Jan 26).
There's a simple reason for the rush – new stadium to accommodate 20,020 people is expected to be ready in late April 2014, giving construction companies just over one year to give Hungary's second largest city a new arena.