Euro 2020: Belgium joining forces, Brussels to get new national stadium?
source: Sporza.be; author: michał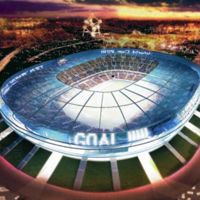 Current Heysel is most likely to disappear, but Belgian FA wants to build a new national arena. Under one condition – Belgium needs Anderlecht to become the main tenant and… investor. Sporza.be reports.
When we presented potential venues for Euro 2020 on facebook, Belgium was one giant blank spot. No stadium in the country is likely to be sufficient. Current Heysel does meet the 50,000 capacity criteria, but is more likely to be demolished and replaced by other functions than redeveloped.
Now it seems there is a new plan, however, with Belgian FA (KBVB) announcing they want to fight for the 4 games of Euro 2020 that UEFA will give out to 13 cities across Europe. A new stadium would be built (possibly to replace Heysel?), but the plan would be viable only if Anderlecht take part.
"Let's be honest, the plan stands a chance only with the stadium having a team to play there on regular basis", says Steven Martens, CEO of KBVB. He adds that in the scheme Anderlecht would play the role of 'main investor'.
This is when it starts getting tricky – Anderlecht are still working on their own new stadium, the redeveloped Constant Vanden Stock. Should they not accept the offer of KBVB, Belgium's only stadium to meet the minimum demand of UEFA (of 30,000+, though only two stadia of that size may be selected) would be Vanden Stock. But with so many great venues to chose from around Benelux, that seems an unlikely selection.
Worth mentioning, Belgium also prepared initial plans for a massive 80,000-seater at Heysel, when they submitted their bid for 2018 World Cup games along with Netherlands. Here's how it looked: