England: Bristol Rovers can go forward with their stadium plan
source: thisisbath.co.uk; author: michał

Last night councilors gave green light to Sainsbury's supermarket to replace the Memorial Stadium. This was the decision required for Rovers to start construction of their new 20,000-seater, thisisbath.co.uk reports.
Yesterday the Development Control (North) Committee at the City Hall approved the plan for Sainsbury's to build a supermarket after tearing down the Memorial Stadium. This was the key decision required for Bristol Rovers to go forward with their plans for University of West England Stadium.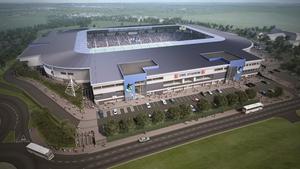 Last night's decision by the Committee will be passed up to the Secretary of State for a final ruling but this is expected to be a formality. He has three weeks to respond.
This decision means construction works on the new 20,000-seat stadium may start this summer and be done before the 2014/15 season starts. Only then can Sainsbury's demolish the Memorial Stadium as Rovers need to have a venue secured for their games at all times. This was the deal reached by the club and retail giant months back. Selling the old stadium is part of the funding scheme for new £40 million development at University of West England.