Egypt: Death sentences in court, death in the streets
source: BBC.com / Telegraph.com / Reuters.com / AlJazeera.com; author: michał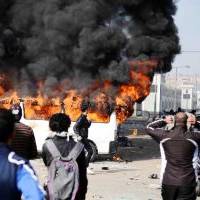 Shocking news from Egypt, where 21 people accused of causing last year's slaughter at Port Said Stadium have been sentenced to death. As the verdict was announced, families of the victims cheered, but in the streets of Port Said people started dying in clashes with police and military.
Today's verdict against 72 people accused of causing last year's tragedy at Port Said Stadium came in an extremely tense moment. Just yesterday riots broke out as thousands protested in the streets, marking anniversary of the anti-Mubarak revolution. There were victims, though number isn't clear.
The court didn't rule on all of the accused, but 21 people have been sentenced to death, all supporters of Al-Masry (home team of last year's disaster, in which 74 away fans have been killed). The decision is expected to reviewed by religious leader (mufti) by March 9, when verdicts on other defendants are expected.
Despite there still being a chance for appeals, unrest erupted as the decision was announced. People in Cairo started celebrating in the streets in thousands, but those in Port Said started attacking local prison, trying to free the people sentenced.
Numerous news releases give completely different numbers, but what is clear is that today people are also dying in Egypt in connection to the case. At least 9 and as many as 30 people were killed in Port Said, in clashes over the prison in which Al-Masry fans are held.