Czech Republic: Hradec Kralove project finally moves forward
source: eurofotbal.cz; author: michał

Stalled for 4 years already, new stadium with 10,000 seats was finally granted planning permission now. There's still time for opposition to raise appeals, but all previous complaints were discarded, eurofotbal.cz informs.
First presented in 2008, new stadium for Hradec Kralove was supposed to go into operation in 2011. But construction didn't even start. Despite new deadlines set for 2012-13 investors were unable to go forward.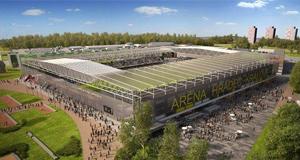 This may now change as the project has been given green light with planning permission finally granted. Procedures have been delaying numerous time with number of complaints (mostly concerning traffic and pollution) reaching a massive 220. However all of these have finally been rejected by the city hall.
At this moment the planning permission may still be subject to appeals and thus procedures may still take longer, but it's the first time the joint project of municipal authorities and ECE developers got this far.
Just as a reminder – the plan is for ECE to buy land from the city. This will give Hradec Kralove enough resources to build a new stadium for 10,000 people. A year after the venue is finished, a shopping centre is to be inaugurated on the plot bought by ECE. Total value is estimated at 3 billion CZK (€95m, $100m).