Brazil: New Castelão reopening far from perfect
source: StadiumDB.com; author: michał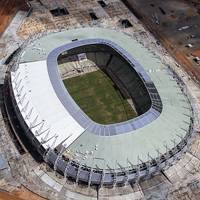 Two games in one day marked the occasion of first football matchday at the redeveloped World Cup stadium in Fortaleza. But even summarized, both fixtures' crowds wouldn't fill the stadium.
Yesterday was the first day of football since works began at Estádio Governador Plácido Aderaldo Castelo (or simply Castelão) back in March 2011. Yesterday two games were played, both in the Northeastern Cup (Copa do Nordeste), tournament between top regional teams.
As this isn't a competition of high popularity, stands were far from packed at both games, even despite the occasion being the ground's actual reopening. Before first game started, between Fortaleza and Sport, top officials from the government and football authorities (with Sports Minister and FIFA Secretary General in attendance) opened the stadium again after it was officially delivered by contractors in December 2012.
Fortaleza's first home game at the rebuilt stadium ended goalless, while the second match (but first to be played with floodlights) finished with second tenant Ceará's loss against loss to Bahia. As seen on videos below, only during the second game one section, that of Ceará's Torcida Cearámor, was close to sell-out, while all other stands were almost empty.
Reopening of the stadium came in a difficult moment as Brazil is still in shock after more than 200 people were killed in a fire in the southern city of Santa Maria. Thus, both games in Fortaleza began with a moment of silence (while matches closer to the tragedy were even cancelled).
Fortaleza 0-0 Sport
Ceará 0-1 Bahia