StadiumDB.com: Happy New Year!
source: StadiumDB.com; author: StadiumDB.com team

This has been our first year together. We hope you enjoyed it as much as we did and hope to see you again starting tomorrow! Or the day after, if hangover doesn't let go soon enough. Anyhow, have a great 2013!
It's been a very fruitful year for StadiumDB.com, though as you may have noticed after the word 'fruitful' instead of something more common, English is still our second language version only and we wouldn't mind if you corrected us when we make mistakes. Because we do, we're aware of it. Sorry for everything we may have messed up in the past months, but hope this didn't discourage you.
Since you're still reading, we hope that you (yes – you!) will have a successful 2013, with few problems and much more reasons to smile every day. Let's hope football doesn't get less enjoyable, nor does groundhopping, groundspotting and ground-whatever-you-do-with-grounds.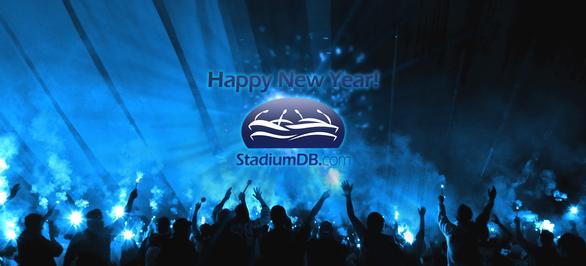 For our English and Welsh readers we wish 'safe standing' campaign becomes a success, for German colleagues we hope all the 'sicherest' in the way they would desire it, not someone from a presidential suite. And for fans worldwide we hope tickets won't get too expensive, stadia too small to take you and overzealously controlled to spoil the party.
Special thanks go to hundreds, if not thousands of people who have been helping us out with information, photos (so, so many!!!), statistics and other data that allows us to improve every day.
So to all of you out there – have a fantastic night and then 365 more until next year's wishes, when we won't have any idea what new to write…