England: Sunderland evicts people for standing, fans still campaign to waive rules
source: StadiumDB.com

As the club emphasizes, its actions are determined by legislation and safety. But many argue that people standing throughout the game pose no threat whatsoever and it's the legislation that needs changing.
Top clubs in England and Wales are forced to create only all-seated sections at their stadiums since the Taylor Report. Then come league regulations and deriving from them – ground regulations. In the end, if stewards ask you to sit down and you don't, you may end up evicted from the stadium. This thankfully is still incidental and standing, even persistent, is very often tolerated not to cause tensions.
This doesn't seem the case for some Sunderland supporters who have been removed from Stadium of Light with their season tickets suspended. The photo seen below became a hit on Twitter, circulating for a few days now.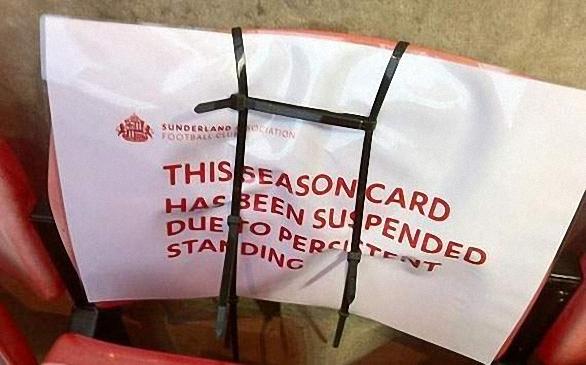 Last season saw 20 people face this kind of penalty for not complying with regulations. During the 2012/13 campaign it's already been 38, though we're only half way into the season. That's why Sunderland AFC published a statement on Boxing Day, urging fans to take their seats.
There are several arguments raised to convince fans, but their justification is arguable. Sunderland warn that the club may face a section or all of Stadium of Light being closed by league authorities if the problem is not dealt with. In theory yes, but practice shows this kind of penalty is more of a scarecrow than a real threat. Then the club fears for elderly supporters and disabled ones. Latter group may seem out of place, however, as fans on wheelchairs are located before the first row of seating, having no chance to get their view obstructed with no-one between them and the pitch.
"We also have a duty of care to all of our supporters, including elderly and disabled fans who have contacted us very concerned that their enjoyment on a matchday is being compromised because people around them stand throughout the game. Naturally we want to ensure a safe, comfortable and enjoyable experience for everyone at the Stadium of Light and we'd ask supporters to listen to requests from stewards and help us to eradicate persistent standing for the sake of all fans." the message ends.
Change possible?
Fans associated in Football Supporters Federation question reasoning behind the ban on standing, going back to the very origin. Because all-seating was introduced after Taylor Report, despite Lord Taylor indicating that clearly standing was no cause for the Hillsborough tragedy and is not unsafe itself. Examples from Germany, Switzerland and other countries are given during the ongoing 'Safe Standing Campaign' to show that standing is now a lot safer than it used to be on old terraces.
And despite lack of action from the ruling party politicians, supporters have been proceeding with their campaign for a few years now. This year seems to be the most fruitful as already 17 clubs expressed their official support (with the likes of Swansea City and Wolves just last week) with some others showing enthusiasm for the idea. Will it go far enough to see trial sections introduced inside England's biggest grounds? This would surely be a step forward in avoiding situations like that from Sunderland.