New design: York Community Stadium
source: StadiumDB.com; author: michał

Was supposed to be done around now. But isn't and won't be constructed until mid-2015. But when it's ready, York will Get a very decent new stadium, quite the opposite of what fans call projects carried out by architects on the job.
Holmes Miller Architects (previously Miller Partnership) has a few significant works in their portfolio, with giant Murrayfield or 2012 Olympics venues. But many fans remember them for 'identikit stadia' built across England – venues without much character and many differences between one another (Cardiff, Middlesborough, Derby, Leicester, etc.).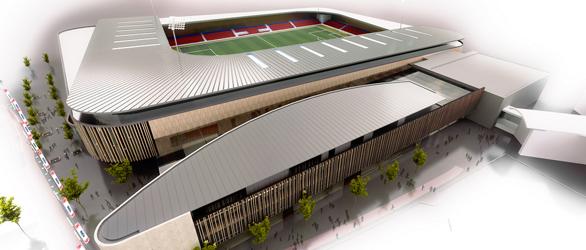 The one they're working on right now for York doesn't seem to fit in that set as its aesthetics seem more thought through and it combines football and retail use with class. Or so show the new renderings that we present today.
For some £26 million York will get a 6,000-capacity stadium with fully covered stands and extensive commercial space. Of 14,000sqm the stadium has to offer just 3,000 will be used for staff offices, while the rest is to be taken over by Marks and Spencer. In a conjoined pavilion another chain, John Lewis, will get similar amount of space.
These outlets are supposed to provide most of the financing. The rest is expected to be covered by York city, Football Stadia Improvement Fund, York City FC and possible other partners.
Initial plans envisaged construction works to commence this year, but currently June 2014 is the most probable start date, with construction expected to last 12 months.