England: Bolton plan commercial development around Reebok Stadium
source: ConstructionEnquirer.com; author: michał

Three office blocks and expansion of the main stand at Reebok Stadium – that's the plan in general. With extra revenues and more chances for the community Wanderers are ready to spend £100 million.
Three buildings of 7 floors are to create what the operator and club owner Burnden Leisure describe as "grand arc", encircling the north stand. Office and commercial spaces are expected to cover 28,000 sqm (300,000 sq ft).
Additionally, Bolton Wanderers are hoping to expand their main stand (west). Not by extra seating, but even more space inside for corporate hospitality.
And finally, a new education facility – possibly for a free school – is to be created as another part of the project, further west of the Reebok Stadium.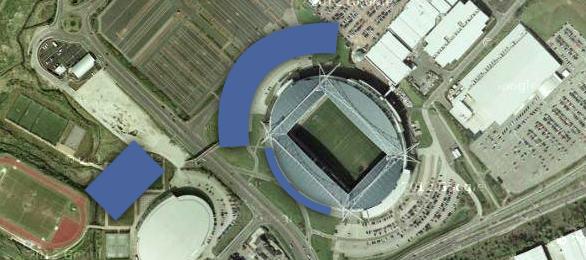 Altogether the program would cost some £100 million. Club chairman Phil Gartside said: "In 1996, the club's then board had the vision to build the Reebok Stadium. Now we are seeking to add to that vision with the planned creation of a major regional sports and education centre and offices at Middlebrook.
"This would maximise the potential of the existing facilities and develop further complementary elements. Our scheme includes working closely with the Bolton Arena Trust to reconfigure the arena. This would lead to a new sports building and also an upgrade of the football pitches and other sporting facilities, which would bring further benefits and usage for the community".