Africa: Malawi latest addition to China's 'stadium diplomacy'
source: AfricaReview.com; author: michał

It's not easy to find a country in Africa that didn't get their largest stadium as a 'gift' from China. One of the last blank spots was Malawi which, as AfricaReview.com reports, has just signed an agreement with Chinese government and will be getting a 40,000-capacity venue in the capital.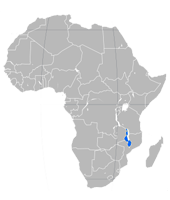 Lilongwe, closing to 1 million inhabitants, will receive a new 40,000-seat stadium in the upcoming years. With giant arches providing cover to some 30,000 spectators (only end stands left uncovered) and running track the stadium will easily meet the requirements of all major federations, with FIFA and CAF to start with. Currently the country hasn't got any venue suitable to play in, according to both football bodies.
Malawi (blue on the map) will not get their new stadium for 'free', the country will have to repay expenses over a period of 20 years. But with both design and construction done by Chinese contractors, price is kept very low at $70 million.
All countries neighbouring Malawi – Zambia, Mozambique and Tanzania – have received their new national stadiums from China over the past two years. Similarly, three last African Cups of Nations had host venues all built with Chinese help. Very few countries in Africa haven't used the support, with South Africa, Egypt of Nigeria being examples.
As part of the so called 'stadium diplomacy' China funds or offers cheap stadiums to developing countries in exchange for economical cooperation and, in most cases, breaking any ties with Taiwan. This policy covers not only Africa, but also Asia and Central America.