New country: Trinidad and Tobago
source: StadiumDB.com; author: michał

Sounds exotic? It may, since there aren't many countries with shark as traditional meal. But it should also sound football-friendly with an 8-league system on those two small islands and two football world cups in just 10 years.
On our way to add 25 new countries we now make our only stop in both Americas, putting the flagpole between the continents, in Trinidad and Tobago. Since photo resources from Central America are limited, we had to choose this football-crazy country, where the British Empire started to launch games already in first years of the twentieth century. With the domestic football federation established in 1908 T&T have one of the longest football traditions outside of Europe.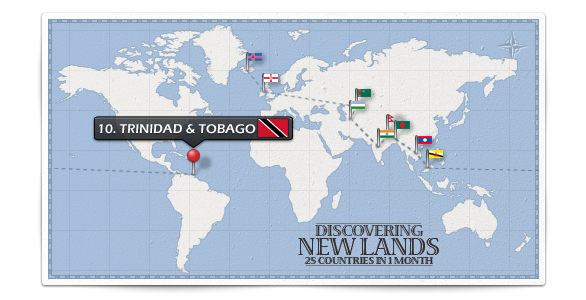 And with just over 1.2 million inhabitants, having 85,000 players, 10 leagues (8 tiers, but two have divisions) and almost 100 clubs they have to love football. And not only did T&T advance to the 2006 World Cup, they actually hosted two on their own already – both in U17 category. First for boys (2001) and then for the ladies (2010). A lot of efforts (and money, Chinese in part) are invested in promotion of sport as a way to keep youth off the streets. Today we start presenting stadia in Trinidad (none from Tobago, sorry), but will surely look for more in the future.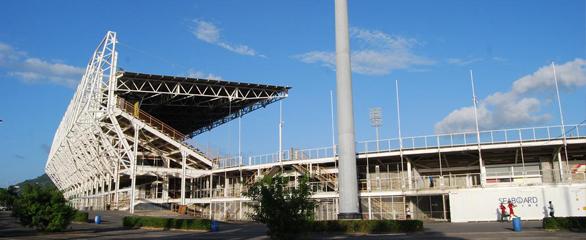 The country's largest venue was opened back in 1982 as simply the National Stadium, central part of an extensive sports complex. As this was soon after Trinidad and Tobago became an independent country, this venue also had a symbolic value. Over the years it became home to most important sports events in T&T, getting a facelift ahead of 2001 U17 World Cup.
Just 5 years before the event it also received a new name, honouring the country's first Olympic gold medalist, sprinter Hasely Crawford.
Located half way between Trinidad's largest cities, this stadium was built ahead of 2001 U17 World Cup, first such event in T&T's history. Traditionally for the Caribbean, it's not football-only in terms of use.
Athletics track around the pitch fits nicely to the name, celebrating 4-time medalist in sprint Ato Boldon. As the ground was built just 4 years after his last medal, this seems very fitting.
The ground has four grandstands, but three of them are along one side – central one dominating with size and roof with two others on the sides. On the opposite lies the largest one in terms of capacity.
Due to demand for sports stadia and restricted budget, the very same design was used just several miles south, at the Mannie Ramjohn Stadium.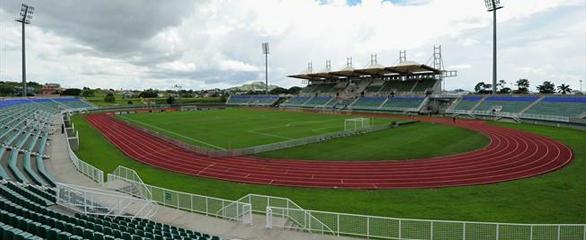 Built in Marabella on northern outskirts of San Fernando, this ground was opened in 2000. Its name from the very start honours Mannie Ramjohn, first gold medal winner for Trinidad and Tobago ever (though not during Olympics – in world championships).
But despite the ground having a running track that would fit patron's name (Ramjohn was a runner), this is primarily a football venue with even four clubs using it simultaneously. Not to mention the U17 World Cup games in 2001 and 2010.
Just 13 km north stands the Ato Boldon Stadium, built along the very same design, differing only in seat colours. Copying the design was one of means to keep costs as low as possible.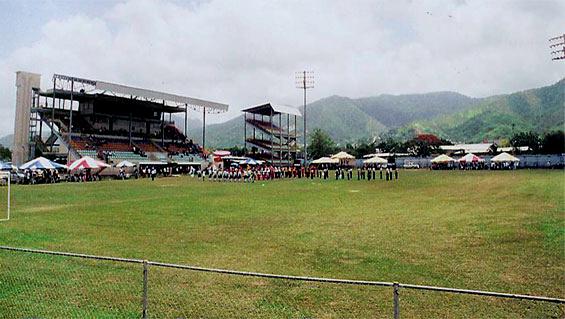 Most important stadium without a running track in the country. It has just two permanent grandstands, both with mostly steel structures. The main one, larger, is centrally located and has all the player infrastructure underneath.
Smaller and more original stands just several meters next to it. It may be used either as three separate stands standing alone or as one three-tiered structure, in which configuration it makes quite an impression. Other stands may be added temporarily if events require.
In 2007 the ground became first ever in the Caribbean to have an artificial pitch.
Its name remembers Marvin Lee, U20 national team captain who sustained a dramatic injury in a game against USA. As a result he was completely paralyzed and his weakened body gave up when he was only 21.