New country: Lebanon
source: StadiumDB.com

We're almost at our goal of 25 new countries. Now we stay for a day in Lebanon where the recently renovated stadiums stand out from the crowd. Sometimes literally, like the ground sticking out to the sea...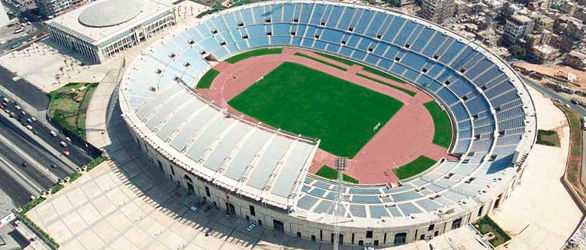 Lebanon's largest stadium dates back to 1957, when it was erected in central Beirut's district of Bir Hassan. Built while famous political and religious leader Camille Chamoun was president, it now bares his name.
Initially with two-tiered stands and no roof it had floodlights installed later, but in an unconventional spot – four masts were standing right outside the pitch, but inside the running track and stands. This unique setting existed until the ground was destroyed during Israeli invasion that caused massive destruction in Beirut.
It wasn't rebuilt until 1997 and even this was possible with financial support from Saudi Arabia and Kuwait who contributed 25% of the app. $100 million reconstruction budget. When redone the stadium had stands divided into 3 tiers with new floodlights and roof hanging over the main stand.
Since the revamp is has been used for various purposes with large sporting events being the most memorable ones: Pan Arab Games (1997, to return in 2015), Arab Championship (1999), AFC Asian Cup (2000) and Jeux de la Francophonie (2009).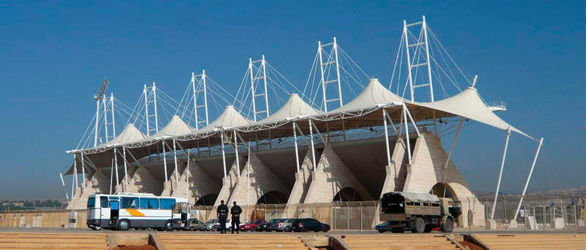 Construction of this one was planned as Lebanon were selected hosts of the 2000 Asian Cup. This venue hosted 7 matches of that tournament, including one quarterfinal.
Design is the work of LACECO, Lebanon's leaders in stadium design, based in Beirut. One distinctive feature of this venue is its main stand with impressive membrane roof. Another key feature is the location on an artificial peninsula sticking out from the coastline of Sidon.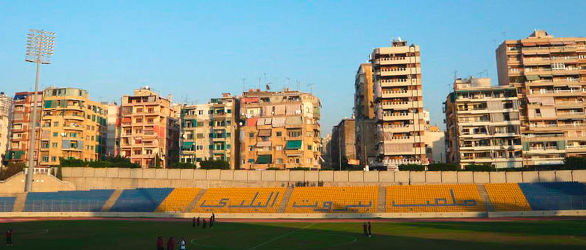 Located just 500 meters north from the national stadium it isn't part of the same sports complex. On the contrary, it lies in the heart of one of the most densely populated districts of Beirut. It's overcrowded to the extent that in 2010 it was suggested to tear the stadium down just to build parking lots with leisure space atop to bring any light to this location.
But so far it stands and it's not that hard to understand why – built in just 1997 and renovated in recent years with seats and partial cover it's still among the best in Lebanon. Not going to remain on the list for long, though, as its very simple structure has many drawbacks – something one might expect from a stadium built in just over 70 days (!).