New country: Albania
source: StadiumDB.com; author: michał

With our last, 25th new country in recent weeks, we return to Europe, where we started from in September. This time to the most important Balkan country that our database lacked before. Welcome to Albania!
It took us a bit more than the estimated month, but we've reached our goal of adding 25 new countries, which means we now cover most of the countries in the world. Finally, phew. And with almost 60 new stadia in a few weeks we're sure everyone found something interesting along the way. But let's stop here and give the credit to our last "New Land" - Albania!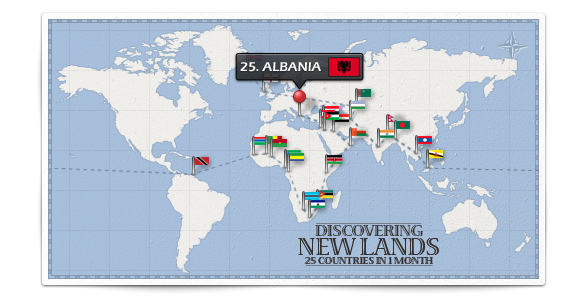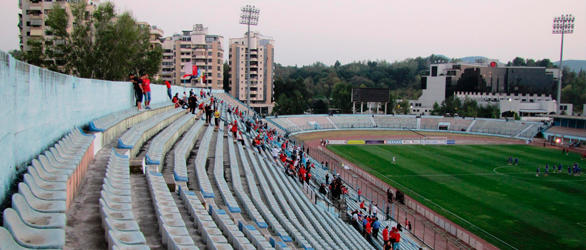 National stadium of Albania faced a difficult start as soon after construction works commenced WWII broke out and when allied Italian authorities capitulated, works were halted. Before that it was planned, just like in Italy, for the stadium to be covered in marble, worthy of being the country's most prestigious venue.
However, German invasion (Nazis garrisoned their army there) and the influence on Albania's stability caused for plans to be reduced, with only the main grandstand receiving its impressive front facade.
Construction was finally done two years after liberation, in 1946. The ground received Qemal Stafa, war hero's name. Inauguration in Autumn brought Albania and other Balkan countries to compete in Balkan Cup, won by the hosts.
As Tirana was growing very rapidly, so was the demand and in 1974 the east stand received a second tier, allowing for the stadium to reach 35,000, though mostly standing places. Along came first scoreboard, but floodlights didn't – it wasn't until late 1990's that Tirana witnessed their first night game, just after the ground became an all-seater, losing over 15,000 in capacity.
Due to it being the national stadium it hosted most of the prestigious Albania international fixtures, with everyday use provided by KF Tirana, Dinamo and Partizani clubs. Many track and field events were also held as the ground has a running track from the start. Interestingly, the distance between stands and pitch is relatively short alongside the pitch and track, but unreasonably long on ends with even 60 meters separating first row from the goal and 20 from the running track(!).
Today, as the ground awaits demolition to make way for a new one, this will not be repeated with the planned 33,000-seater being a football-only venue. The stadium designed by Spanish practice Fenwick Irribaren is expected to cost €60 million and be shaped to resemble the country's borderline.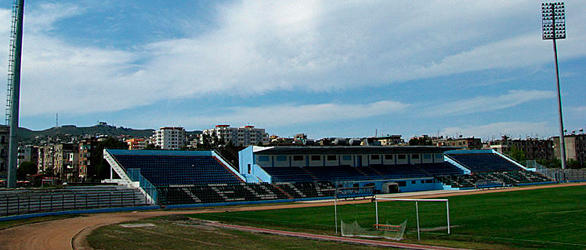 Though Durrës is one of the most important cities in Albania, it only has one significant football stadium. In return, it stands exactly in the centre of the city, surrounded by numerous estates. With capacity of some 12,000 people it's among the country's largest, though would probably hold much less people if more than one stand was equipped with individual seats.
Despite its poor state and very limited part coping with international standards, the ground hosted its first Albania international fixture in 2010, when Uzbekistan came to play a friendly.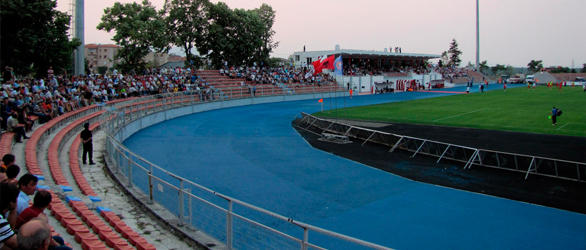 Construction of the low, oval stands started and ended in 1957, giving Korce a stadium for 12,000 people with a modest main grandstand. As time went by and seats were installed, capacity decreased to some 7,500 people.
Last renovation took place in 2010-11, when the ground became one of the most modern in Albania. Not for its high standard, but because others were neglected. After works were done local side KF Skënderbeu took on APOEL Nicosia in their first international fixture.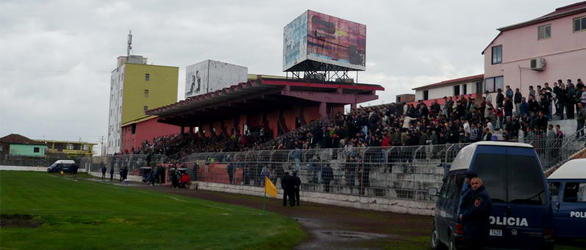 Largest stadium of Lezhë in northern Albania lies just in the centre, between dense housing estates. Still, it offers an impressive view of the nearby mountains from its main stand. The pitch and track are surrounded by minor artificial slope that accommodates standing viewers with only the concrete main grandstand having some cover.
In 2010 it was decided that Brian Filipi will become patron of the venue. This young player was killed in a car accident just months earlier while he was beginning international career in Italy. However, the name was later revoked and the stadium is again called after its home club.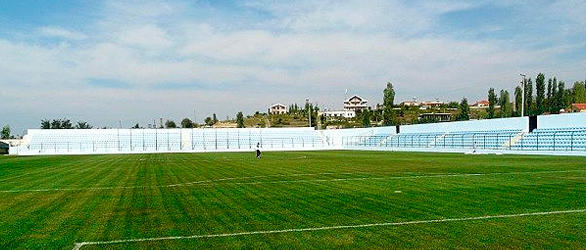 Located north of the town of Laçi, this stadium was thoroughly renovated in 2010. Since then, after new paintwork and seats were installed, capacity fell from estimated 11,000 to 5,000 viewers. New main stand with partial cover was also built.