New country: Syria
source: StadiumDB.com; author: michał

Though now overwhelmed by war, Syrian cities were the ones we missed very much in our database and decided to change it. With newest photos dating back to one year before the war, let's see Syria at peace and hope this is how the country will look soon.
Our 24th of the 25 "New Lands" is Syria. One of the most important countries in the Middle East today joins our database of football stadiums.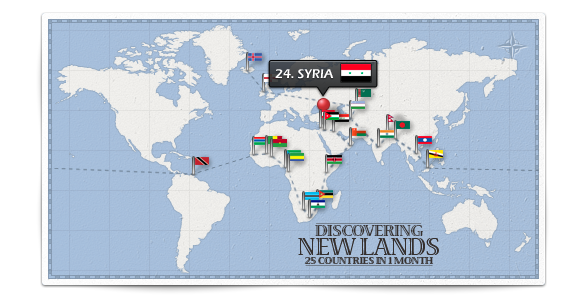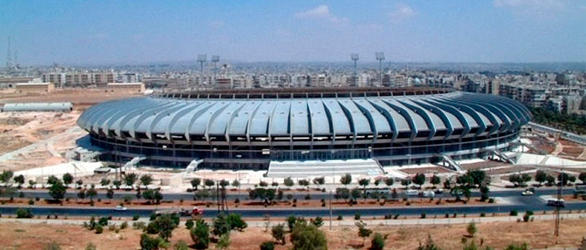 When it was announced that Syria plans to build a large 33-hectare sports city in Aleppo in late 1970s, word was of one of the world's most modern stadiums. Stadium design was carried out by Polish architect Stanisław Kuś with his associates. Massive stands divided into three tiers (approximately 35 / 20 / 20 thousand each) were to be covered by even bigger concrete roof. With 80,000 sqm it was to be the world's second largest structure of this kind.
Unfortunately this proved too much to handle for the Syrian government and while two secondary stadiums were finished along with other small venues, the main stadium construction has been halted after a few years at a very early stage. Construction was relaunched after securing financing only in 2003 (!) and ended in early 2007, making the process last a record 27 years.
The stadium comprises five floors of infrastructure and became the home of Al-Ittihad Aleppo who moved from the smaller naighbour, Al-Hamadaniah Stadium in 2007.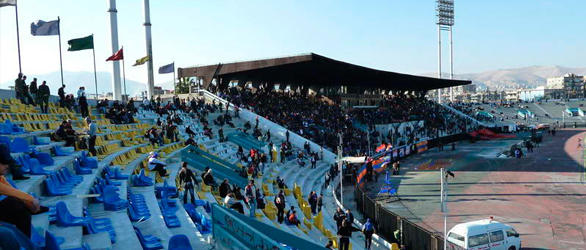 Damascus's largest stadium started off as a modest athletics ground back in 1957. It wasn't until 1976 that it began to house football games after a thorough redevelopment. This brought capacity well up from just 10,000 to some 45,000 people.
Its sheer size meant becoming one of two most important stadia in Syria along with Aleppo's Al-Hamadaniah Stadium. This changed only in 2011 when – just before the civil war broke out – seats where installed all across the ground to decrease capacity to 30,000.
Though it was never the national stadium of Syria, it played host to numerous international fixtures of the national team. Week-to-week use is provided by three local clubs.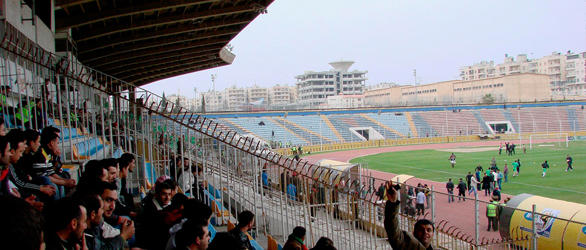 Built in 1986 it was supposed to stand in the shadow of Aleppo International Stadium, but the greater arena's construction was halted for many years. Thus, it was Al-Hamadaniah Stadium Aleppo's largest sporting venue with initial capacity of up to 30,000 people (18,000 after transformation into all-seater).
This means that events of both the 1987 Mediterranean Games and 1992 Pan Arab Games were staged here, not mentioning numerous games by the national teams. Also local derby rivals Al-Hurriya and Al-Ittihad were hosting most of their games here for many years until Al-Ittihad moved to the finished International Stadium in 2007, though still stages some minor fixtures here.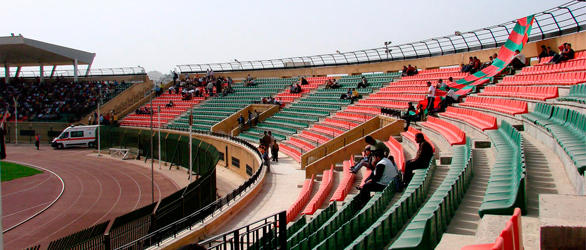 Built in 1985 in northern outskirts of Idlib. Since the start it consists of three independent stands around the pitch with athletics track. Only the southern side remains without spectator sections.
When there were no seats in early twenty-first century, capacity was estimated at 12-15,000 people. Currently, after the individual seats were installed, this number decreased to some 7,500.