London: Wimbledon coming home?
source: WimbledonGuardian.co.uk; author: michał

Second proposal to build a new ground for AFC Wimbledon at Plough Lane has been submitted. In total there are three bids with only one ruling out the club's return to its roots, as Wimbledon Guardian reports.
Plough Lane is currently the only operating greyhound racing stadium in London. There also used to be a football venue nearby, but Wimbledon FC moved out in 1991 to share Crystal Palace's stadium and in 2001 the old football stadium was replaced by a supermarket.
Today it seems more and more probable, however, that Wimbledon – not FC, but the reborn AFC – may be coming home after over two decades of absence. Thanks to determination of thousands of supporters the club is developing and needs a place to grow, with current stadium in Kingston upon Thames far from what they desire.
There's only one chance to get back with the greyhound stadium awaiting demolition within the next two years. The plot with several surrounding buildings is awaiting proposals for future developments, with Merton Council stressing that developing sports here will be crucial.
Already in August it was announced that AFC have a proposal of their own. The aim is to build a stadium for 12,000 people with room for expansion to 22,000 if need be. Commercial developments around it would help finance the £100 million project, that would become reality within 10 years.
This week another proposal was made, Greyhound Racing Authority (GRA) – current stadium's operator. Interestingly, this one also includes a stadium for AFC Wimbledon instead of racing venue. It would hold 15,000 people and be surrounded by extensive residential estate of some 450-500 homes, all shown in the rendering below.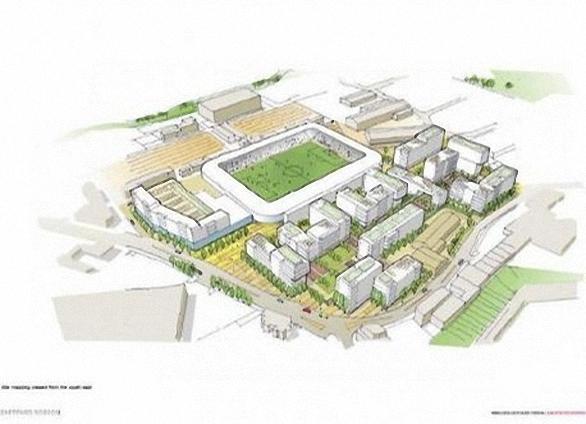 There's also a third vision, however. This time by Irish businessman Paschal Taggart, who wants to bring greyhound racing to its past glory with a new racing stadium for 6,000 people.
Each of the proposals is to be discussed within the community with social consultation process to start on December 13 and end in mid-February 2013. Then in Summer all bids would be examined and chosen from in late 2013. No matter what decision is made, construction will not start before 2014, that's for sure.