Hungary: Government proposes new national stadium
source: StadiumDB.com; author: michał

And up to 10 other sports venues around it. This extensive complex would be built in the place or in the vicinity of current Ferenc Puskas Stadium in Budapest. With 65,000 seats the new stadium may become one of the best in Europe.
Hungary has been attempting to do something with the dilapidating Ferenc Puskas Stadium for a few years now. One vision had been presented in their Euro 2012 bid, but when the event was given to Poland and Ukraine, plans were scrapped.
Another vision was introduced last year, when a 40,000-seater was planned in the place of dismantled Puskas. But that didn't happen as well with the old venue untouched so far.
Will third time be lucky in this case? Another attempt will be made soon with the government having announced just now that a new national sports complex is to be built around Puskas. Deadline for completion is set at 2020.
Its centerpiece will be the new national stadium for some 65,000 people, but at this point it isn't clear whether it will replace its predecessor or stand next to it. Planning and design are the first phases to be carried out, possibly to start within the next several weeks. We should know the final look of the stadium in 2013 with works on the documentation priced at HUF 1.4 billion (€5 million or $6.5 million).
National stadium is to be the first building constructed, with government hoping to open it in 2016. Around it 10 other sports venues are to be built and renovated, with velodrome, natatorium and indoor halls. All this with new roads and parking infrastructure will be ready in 2020. Financing is to be secured by a 30-year loan the gov't is to apply for.
Below you may see a vision of how the complex may look. This isn't an official concept according to which the final design is to be done, however. This one is a competition entry from 2012, when various architects gave their proposals for the complex. There was no 1st prize, but this one, by Mertek, won 3rdspot among 10 distinguished entries.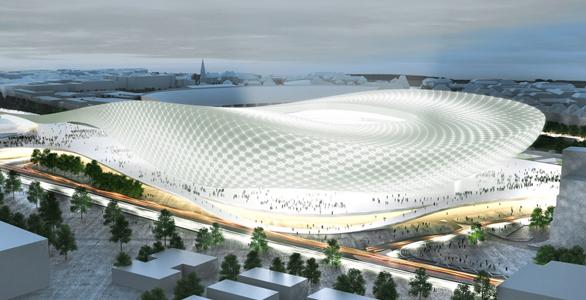 Photo: Mertek.hu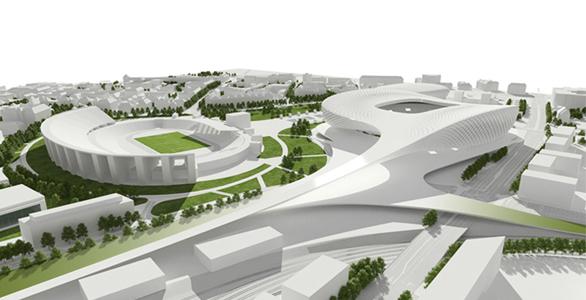 Photo: Mertek.hu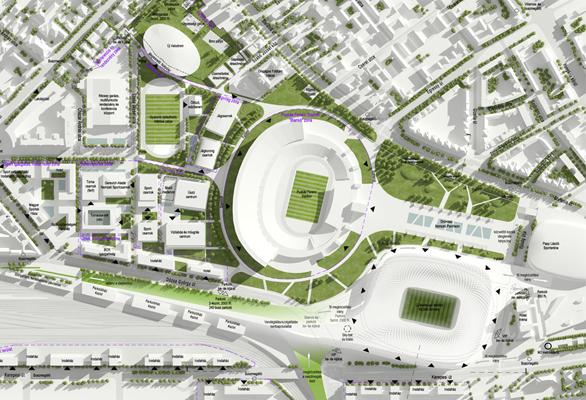 Photo: Mertek.hu