Slovakia: New national stadium to finally get built?
source: Boom.sk; author: michał

Authorities in Bratislava have proven helpless in providing a new national stadium since 2008. This is when works were to start initially. Will the venue get built now, with private partners?
Tehelné pole, current national stadium of Slovakia is in despair and needs redevelopment immediately. This is nothing new, however, as Slovak government has been planning on building a new stadium for several years now.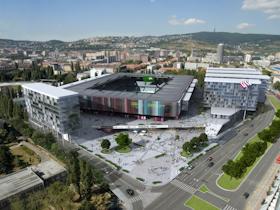 Late 2008 – this is when demolition was to begin according to first plans. Then in March 2010. Then in February 2012. Each time with a different plan in mind. In 2008 it was to be a public investment scheme. In 2010 possible partnership with J&T private partner. And in early 2012 it was to be Ivan Kmotrik, owner of Slovan Bratislava football club, who ordered the attached concept to be created.
But as we're closing to October, none of the above plans have happened. Not yet, at least. And prime minister Robert Fico claims authorities aren't able to supply full funding for the €40-45 million structure that might accommodate over 20,000 people.
Fico suggested last week that a possible PPP (public-private partnership) deal may come as a solution, with authorities and the stadium itself paying for the investment in the long term. Speaking to Slovak Radio Fico didn't indicate any potential partner yet.