Saint-Etienne: Hot opening of Kop Nord
source: StadiumDB.com; author: michał

For over a year it was closed for redevelopment. But when finally opened, the stands seems to have dismissed fears that it may lose its atmosphere. Loud chanting, massive displays and quite some… controversies.
Reconstruction of the north stand (Kop Nord) at Stade Geoffroy-Guichard started in July 2011, as first step of Euro 2016 redevelopment. In early September works were done. Result: new roof without supports that would obstruct view, additional second tier over the kop section. On both sides corners have been filled as well – by two-tier away section to the east and a small seating area and a pavilion to the west.
Worth mentioning is the fact that Kop Nord will from now on be a standing terrace, despite having seats all the time. Hard seat shells were mounted onto concrete and can bear people standing or walking on them. But for UEFA games there are backrests hidden underneath that can be taken out and used to comply with European all-seating regulations.
Festive opening
Some were afraid that with a second tier the Kop will Lose its charm and some of its fierce atmosphere. But "Magic Fans" who gather in the northern part of "Geoffroy" decided to dismiss all the fears. For yesterday's game against Sochaux they came in massive number of around 10,000. First in a colourful march through city streets, finally arriving at the stadium.
There they presented a large choreography with the name "Kop Nord" painted on flag that covered the whole Kop. Second tier had a banner saying "Sans Toi Geoffroy n'a pas la meme saveur" (Without You Geoffroy doesn't taste the same).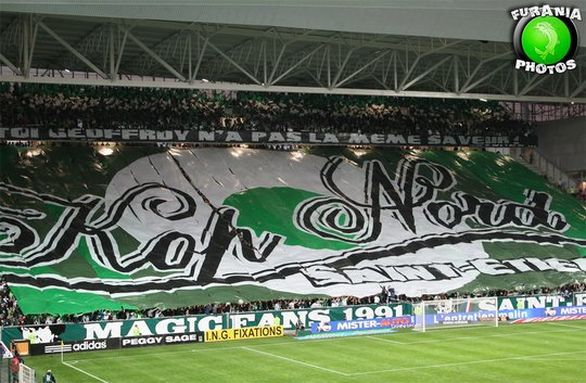 Photo: Furania Photos
Over the course of the game support from Kop Nord was very loud and well organized, with almost everyone joining in. This can be seen in the clip below, where all fans start jumping simultaneously:
One protest after another
Unfortunately, there was quite some controversy. Not about the fans so much, more about actions taken recently by authorities. In particular it was about the away game of AS St-Etienne in Furiani, against Bastia. One fan there was sentenced for lighting a flare and throwing it onto the pitch. This wouldn't be too controversial really, but the away following claim it wasn't the right person who was arrested and the steward who pointed to the supposed perp has simply mistaken.
And although it was the only evidence against the fan in question, he was then sentenced to 15 days in prison, stadium ban (with electronic bracelet on his leg) and a high fine. This, as supporters claim, ruined his life as he had a job that required impeccable reputation.
Thus, yesterday's game has seen several banners in relation to that event. In various parts of the north end slogans were presented, to name two: "Prison for false testimony. When will we see death penalty for ultras?" or "Supporting Saint-Etienne isn't a crime. Ruining an innocent man's life is".
There were also many references to situation of French supporters in general. Recent "zero tolerance" policy towards pyrotechnics made fans question the intentions of authorities. Especially the LFP (French league), who used to promote matches with images of flares. That's why Kop Nord saw another banner yesterday: "LFP: We light flares for your publicity, you give away bans for your credibility".
Interestingly, not only north stand was subject to this kind of actions. Also in the eastern part of main grandstand fans expressed their opinion, this time with a less serious approach. When flag with "You want England" appeared, fans sat down in silence, just to jump up, wave flags, shout and decorate their section with sashes and confetti. This happened as soon as another banner was presented: "You'll get Argentina!"

Photo: Furania Photos
Construction moves on
A reason why fanatic fans were located on the main stand was that the other Kop at Stade Geoffroy-Guichard has been closed in August. Kop Sud (this in one of few stadia globally where both end stands are taken by local fanatics) is next one to be remodelled in a similar fashion before Euro 2016.
Works at Kop Sud will also see a new roof and second tier of seating. The only difference is that south-east corner was to be left empty as the only side of the ground. But during recent visit at the ground mayor Maurice Vincent suggested he will ask the council to vote on a small seating section there, to increase capacity by at least 1,000 seats.