New: One and a half stadium in Essen
source: StadiumDB.com; author: michał

Three new stands and two old ones for an unusual pentagonal venue until the older ones are torn down and replaced by new fourth stand. That may sound more boring, but will be more modern as well.
We weren't sure whether to add it already, but since it's both operational and well photographed, we can present you with Stadion Essen. Or what is to become Stadion Essen, when fourth stand is added.
OK, back to the beginning. In August 2009 demolition of Georg-Melches-Stadion's north stand began. Partially in its place, but mostly over training grounds of Rot-Weiss Essen preparatory works started. That's because the new stadium is moved by some 100 meters north-west and rotated significantly. The photo below may shed some light as to how the two grounds corelate.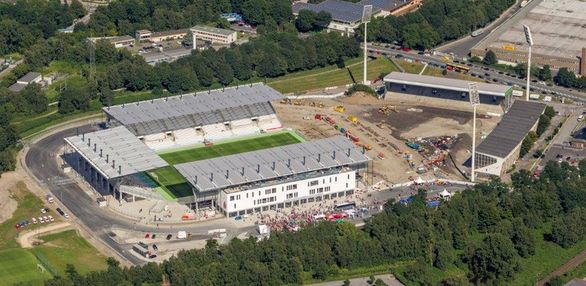 During first phase of the project three new stands were built with only one end left empty. With some 13,580 places (of which 11,320 are seated) Rot-Weiss moved to the new ground in August 2012.
Eventually, most probably before 2013/14 season, capacity will rise to 20,650 thanks to the last terrace being added. And yes, it will be a terrace as the ground will have over 9,000 standing places. If that proves insufficient, adding extra 5,000 by filling corners is possible, as well as making it even 35,000 when a modest second tier is added throughout the venue. This flexible plan, just like the aesthetics and infrastructure were done by Plan Forward architecture practice.
So far, with only 20,000 seats, the ground will cost some € 40 million, a 30% increase compared to early estimations.
Opening game already happened in mid-August, with Borussia Dortmund's youth losing to Rot-Weiss U19 team. Just a week later Union Berlin came for first DFB Pokal tie, but the move to Stadion Essen isn't complete just yet. Club offices will be ready on Sept 17 and only then will "Red-Whites" be really at home. With old address, but completely new infrastructure.