New design: Rock Stadium
source: StadiumDB.com; author: michał

Massive stand laying on a mountain slope and three other hidden in a sunken bowl – this way Al Ain's large 40,000-seater will be almost symbiotically integrated into Jabel Hafeet mountain.
When Lebanese architects were first asked to design future stadium for Al Ain's new largest stadium, architects were putting together plans of a stand-alone venue that would become a new landmark. But after visiting the site, their vision has changed to a venue almost invisibly fitted into the landscape. Still, undoubtedly a landmark.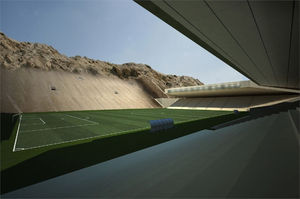 MZ Architects decided to make use of the dynamic surroundings with Jabel Hafeet mountain taking priority. It will be the base and background of Rock Stadium's largest stand – without a cover and with entrances curved inside the mountain. As for remaining three stands, they will be sunken under ground and covered with roof resembling the sandy desert hills.
This symbiosis with surrounding area is not only an aesthetic step. It also aids t lower construction cost (using a lot of the excavated material) and maintenance cost as well (sunken and shady bowl reduces price tag on cooling).

Architects already analysed the basis the stadium is to be set upon with geological research, but work on the concept is ongoing. No budget or time line for the investment is known so far. What is known is that the ground has just this week received Best Future Building award during LEAF Awards in London.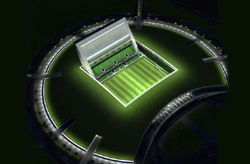 MZ Architects have already been in the spotlight for a different sport design, the Wall Stadium in Doha (rendering left). That venue was to be the first stadium with stands literally under ground, apart from the main one standing out almost like a spire. Construction started, but was unfortunately halted.