New country: Northern Ireland
source: StadiumDB.com; author: michał

Despite long and proud traditions, stadium in Belfast are in desperate need for renovations. And since they are to get some soon, checking out their current state me proof to be a good idea.
For starters we serve you only two stadia in Northern Ireland, our second "new land", though the most important two at least. If only we get fresh photos from this green land we will surely update the country with further presentations.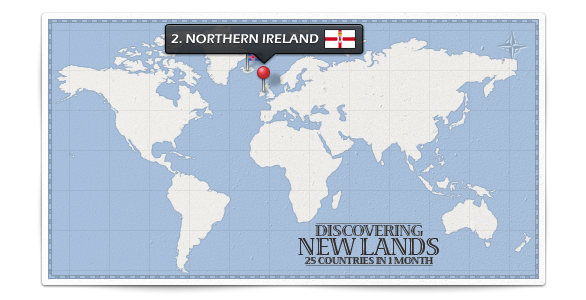 The story of Windsor Park begins in 1905, when two of Northern Ireland's most popular clubs – Glentoran and Linfield – player their Belfast derby. The ground, bearing name of its district Windsor, earned its fame in 1930's, though.
It was then that complex revamp by Archibald Leitch was carried out to increase capacity to even 60,000 people. With only one seated stand (southern one, and even it was only partly seated) and three big terracing sections it was Ulster's biggest venue. And best due to decent standard with only one stand uncovered – western Spion Kop.
However over the years its size started decreasing significantly. First in 1970's with first (and to date only) two-tiered stand in the north, all seated. Then in 1980's the Spion Kop was removed and though the new west stand is still called the Kop, it's a 5,000-seat stand.
Today's stadium is a mixture of stands built in 1930's, 70's and 80's. No wonder that without big renovation spending it started raising concerns over spectator safety from both FIFA and UEFA. Thus capacity, realistically at almost 25,000, is restricted to just 12,950 for European games and even less for domestic ones.
No wonder plans for a new venue started appearing. In 2007 it was suggested to move the national venue to Lisburn, outside of Belfast, but those plans never came to fruition. Consequently in 2012 a new vision of redeveloped Windsor Park came up. Proposition is now being worked on, it comprises three new stands with only the 1970's north one being left standing from current structure.
Owner and main team are Linfield FC, but national team or Northern Ireland is also using it. Annually the domestic cup final is also decided here.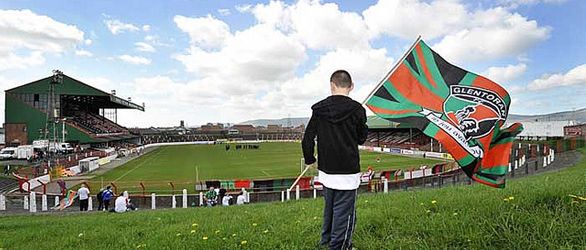 Despite being among Ulster's oldest with opening back in 1892, this stadium was already the fourth venue to be used by Glentoran, even though the club started operation just a decade earlier.
New stands were built in 1903, but current look of the ground is an outcome of works done 50 years later, in 1953. Before that the Oval was bombed in 1941 and repaired until 1949.
Theoretically it's able to hold up to 26,500 people with terracing throughout the perimeter of the pitch, but for safety reasons only two seated and covered sections are being opened nowadays, bringing actual size to just over 5,000 seats.