New ground: New York Stadium
source: StadiumDB.com; author: michał

Don't be fooled, this one's in England, even if has quite some connection to NY City. As its operator says, it's "the only stadium in the UK to be built in 2012". Isn't that enough to make it worth a look?
Name may lead you to thinking it has something to do with the Big Apple in United States. And not without a reason – the ground stands where a foundry responsible for iconic NY City hydrants used to be. But more simply new stadium is just called after the neighbourhood it was built in.
Although construction took just over one year, plans were in place much earlier. Rotherham United didn't come to an agreement with their previous ground's owner and had to seek for an alternative. Temporary stay at the Don Valley Stadium was no solution in the long term, so the idea of new community stadium was brought forward. Design drawn in 2010, plot bought the same year, construction started in June 2011. By mid-July 2012 the stadium was ready for opening.
It took £25 million to build the 12,000-seat stands that encircle the pitch, but it's not just that. New York Stadium is also the biggest conference centre locally with capacity of up to 700 people for single events. It's also located very comfortably within walking distance from the centre, close to railway station and bus interchange, also with decent car capacity.
The visual side was done by S+P Architects. Along with their vision the bowl grows proportionally from south-east to north-west, ending with the dominating main grandstand. The seating is all in one tier, apart of course from the skyboxes and suites.
Below you may see the first photos of this ground by Jamie Peters, thanks to whom we can present it to you tonight!
Photo: Jamie Peters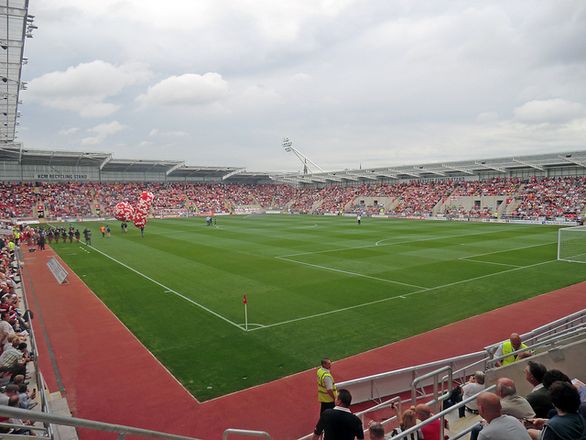 Photo: Jamie Peters