Lens: Change of plans, construction back on agenda
source: info-stades.fr; author: michał

In early July it was declared Lens will not be getting a redevelopment of their largest stadium. Now the same authorities say they've changed the business model to work well. Works should start in March 2013.
First days of July brought surprising decision for RC Lens supporters and all those hoping for Euro 2016 to be played in Lens. Despite having the planning permission for several months, municipality decided to cancel major redevelopment of Stade Felix-Bollaert, planned since 2007.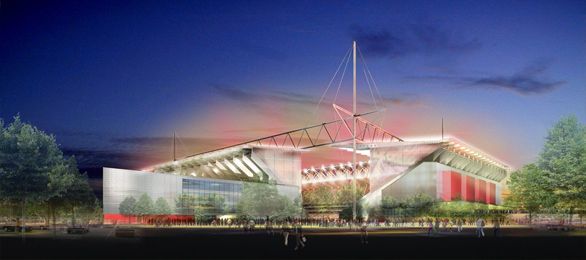 The previously planned financing model was weak as both the city and club aren't able to spend a total of €71-75m for the works.
However, now a new business plan is in place. Along this one the regional authorities of Nord-Pas-de-Calais are to pay €25m, Lens-Lievin conurbation further €20m with the government donating €12m. And finally Credit Agricole Nord, RC Lens major shareholder, are to give the city a loan of €30m. All this enables not only the stadium revamp, but also improving surrounding infrastructure.
New planning permission is promised to be released by September 15 with construction works to start in March 2013.