Their Euro: Sachiko (3)
source: StadiumDB.com; author: michał

Her heart beats for FC Tokyo, but every couple of years Sachiko books flights to experience football's largest tournaments. Completely different experience than club football, but a very likeable one, she says.
StadiumDB.com: Coming to Poland all the way from Japan just for a football tournament? That sounds crazy! Why the decision?
Sachiko Yashida: Yes, the Euro tournament is the main reason to visit Poland. Footy events are like festivals alluring people all over the world and they simply attract me. However, besides footy games, this time I went to Dresden (Germany) and Krakow for sightseeing. A Auschwitz/Birkenau visit is quite an unforgettable memory for me. I think I'll be back to Poland just for touring some day.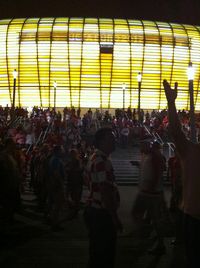 Before coming here did you have any doubts or fears?
Yeah. As the evening matches were held quite late at night, I was afraid of being attacked after the games, but actually it was a peaceful atmosphere with fans walking together or being stuffed in buses and trams.
Was there any specific reason why you may have felt unsafe? Some people in England blame a BBC reportage for making people afraid. Then again, many people in Europe don't know anything about Poland. Did you have any negative image or was it just uncertainty?
Yes and even if without the BBC report, I had already seen the news about Mrs. Yulia Tymoshenko having been detained and reported to be tortured harshly. That effected me a lot to hesitate a trip to Ukraine.
This wasn't your first tournament – first 2002 World Cup, then Euro 2004, then 2006 World Cup. How does Poland compare to those events?
As for 2002, it was like a dream and I couldn't believe that Japan hosts a real World Cup at first.
I was happy to spot scenes that lots of visitors seemed to enjoy Japan and it was really funny to see that ordinary Japanese people were stunned at many fans with colourful replica shirts coming on board chanting at train stations.
Euro 2004 was the first Euro tournament experience. It was well organized, especially fan zones. I went to two games, but the public viewing in Lisbon (Portugal vs England) was very hot as well!!
During World Cup 2006, I felt blown away in a Turkish Kebab restaurant in Berlin. I was watching Japan vs Brazil on TV and some Brazilian fans started making a fuss. Japan was completely beaten by the opponent after all and I was quite disappointed. That might be a lucky experience because it was a first time that I was really conscious of being Japanese.
In 2004 and 2006, I felt that organizers understood the footy events. I was happy just watching window displays decorated with footy goods or ways of offering public spaces to fans (like public viewings) because I could see that local people enjoyed the events so much. Japan has not realized the importance of taking the role of host country because organizers charged fans in every public viewing event in 2002 and parks or public spaces were never opened to footy fans. We still have to learn.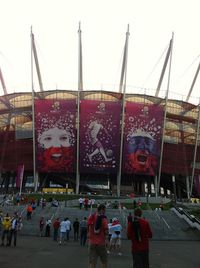 Japanese people are often perceived as distanced and withdrawn. So are Poles. Did the experience of a World Cup change the Japanese society in any way? Because many people in Poland are asking if we have become more open as a nation – did this happen in Japan?
Unfortunately not. World Cup 2002 did not change the whole Japan. Japan has been quite a closed country, as for rural areas, people are still xenophobic. Most Japanese are not eager to know the world and believe what the media say on TV.
I am surprised at the fact you pointed out that Polish people are not so open to the world because geographically Poland is connected to the European continent and I had thought that Polish people would be so conscious about being a member of European countries even though the country has not adopted the Euro currency. Compared to Japanese, I think Polish people were more open, because I got an impression that they were so eager to communicate with visitors not speaking Polish.
On a regular basis you support FC Tokyo, one of more vivid clubs in the J.League when it comes to fans. How can you compare the atmosphere during FCT games and the ones you've seen here?
They are different. Japanese fans come to stadiums very early and prepare for games. For example, some fans are in a hurry as soon as coming in stadiums to get places to display banners of players or of team colours. Team mascots sometimes play some skits in an interval. Chants are quite well organized by leaders in curva zones in J League.
For Euro or World Cup, I've been always impressed that fans come to the stadium not so early. I saw some banners, but they were not for individual players but for city names or fan clubs. Fans start singing spontaneously and the voice becomes one naturally. I prefer this.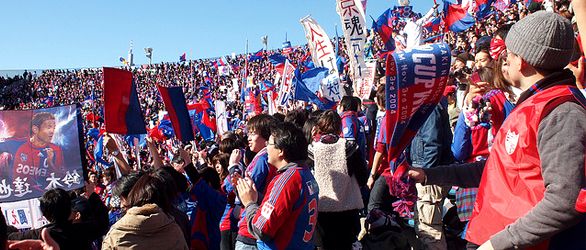 FC Tokyo supporters are among the biggest fanbases in Japan. Photo: Sachiko Yashida
So you enjoy the support being more spontaneous during Euro and World Cup than in J.League? I have to say that compared to J.League some Euro 2012 games seemed to lack the positive devotion. You didn't feel that way?
I enjoyed the Euro2012 indeed, but J league and Euro are not comparable events because while FCT lives in every aspect of my life (so my heart beats so fast when receiving something bad about the club), I can be just a spectator in Euro and World Cup.

Sachiko Yashida. Living in Tokyo, long time supporter of FC Tokyo, both home and away. Frequent guest to European countries, very often visiting places that wouldn't fit in regular tourist guidebooks.