Their Euro: Joe (1)
source: StadiumDB.com; author: michał

We decided to ask people from different countries and backgrounds about their Euro 2012 experience. Everybody, please meet Joe, who came to Poland following Ireland, probably the best supported nation of the tournament.
"Their Euro" is the name we gave to this short series of five interviews in which we wanted to check how completely different people experienced the tournament hosted by Poland and Ukraine not even a month ago. Every second day new article will come, showing Euro 2012 from a different perspective. As our website is based in Poland, we were primarily interested in the way people spent their time here and what impressions they have. But no worries, we also asked about quite a lot of other stuff.
StadiumDB.com: First visit to Poland for you, Joe?
Joe McCarthy: Yes, it was my first time in Poland. I absolutely loved it! The people were friendly, the facilities were perfect and the city itself was fascinating.
Had your team advanced from the group, they'd play in Ukraine. Would you be willing to go there then?
It's possible, but I don't think so, we had booked our return flights in January and were exhausted by the end of the group stage!
Understandable - you've been only to Poznan, but had a whole two week stay here. Your comments about the city?
That's correct, I was in Poznan for two weeks, except for a day in Gdansk. The people were friendly and patient. The volunteers were very helpful and by the end of my time there I could speak enough Polish to order food, drink and ask for directions. The infrastructure was very well organised, the bus outside the hostel where we stayed was punctual and the tram it connected to ran regularly. The prices were food and drink were very reasonable (compared to Ireland!) and I enjoyed Polish cooking.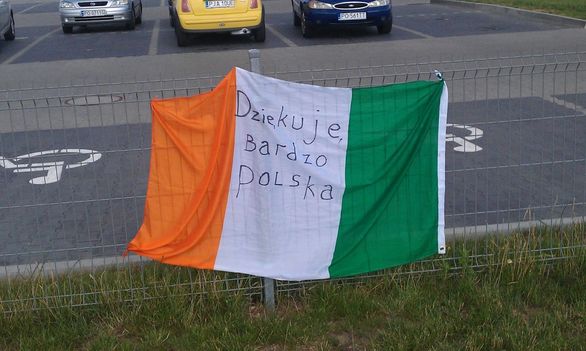 Signs like these were seen throughout Poznan and were mutual. Photo: Joe McCarthy
Since two weeks is a lot longer than regular matchday trips, could you give any details as to your activities during that period?
To be honest, we didn't do a lot beyond watch football in the main square, or the fanzone. We did plan on going to the zoo, but it never happened.
You're probably aware that Irish fans are quite commonly (and in Poland by far) put as an example to all others. "Fields of Athenry" against Spain gives people the goose bumps. Was it equally fun to you?
I don't know if it was fun, we were losing 4-0 at the time, but it was a very special moment. It was very organic among the fans, it wasn't organised but everyone knew what to do. I didn't think it would last as long as it did, but it just kept going. I didn't think it would have as big an impact as it did, and it was very humbling to see the Polish fans singing it in the square.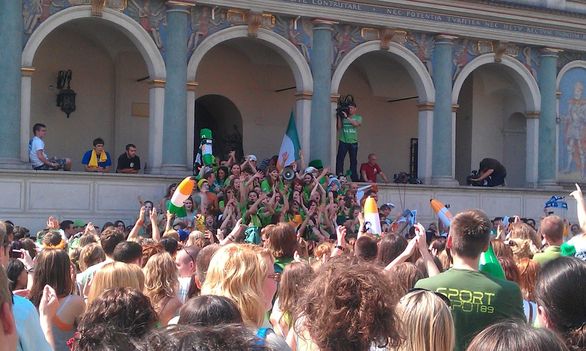 Happening done to thank the Irish for their enthusiasm in Poznan. Photo: Joe McCarthy
Apart from Ireland, how do you think the followings of other group rivals do? We've heard little of Italians and some controversies with Croatians. Did you guys mix with others or didn't feel like leaving your compatriots company?
That's my experience too, we saw very few Italians, even on the day of the Italian game. The Croatians were good fun, joined in with the singing and learned a few Irish chants, and I sang along with a few of their fans. I didn't see any trouble with them.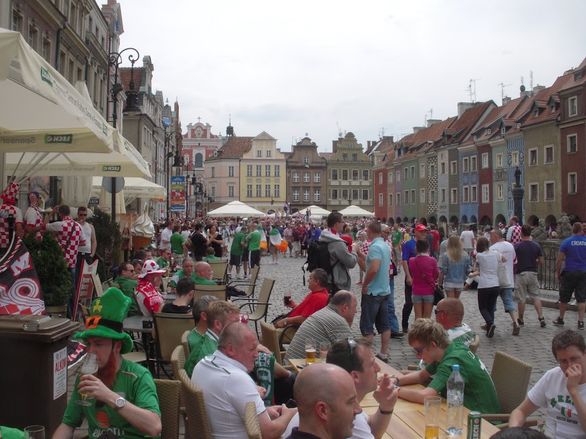 Fans of group contenders mixed in the market square. Photo: Joe McCarthy
At the very stadium, how would you judge the organisation and atmosphere?
The organisation at the stadium was fine, but there wasn't a lot to do outside – restaurants, bars, etc. The atmosphere outside was a little quiet, but picked up inside. The tram ran regularly afterwards so it was easy to get back into the city centre.
Have you already followed Ireland at the Aviva Stadium? (by the way – do you think Irish people use Aviva as name or still call it Lansdowne Rd?). If so, how would you compare games at those two stadia?
Yes, I've been to Aviva stadium many times. I live in Dublin so it's easier for me to get to than fans who live outside Dublin. I call it Aviva Stadium, some people still refer to it as Lansdowne Road. The official name is Aviva Stadium, which is why I use it, but nobody is offended by either term.
The two stadiums are about equal. Aviva Stadium has a larger capacity, but it's the national stadium so I'd expect that. That said, I'd have no problems going to a Poland game in Poznan! The Aviva does have more to do around the stadium - bars, restaurants, etc - and there was a lot of people standing around before and after the two games in Poznan. The tram link is excellent, but needed to be promoted a bit more, we didn't know after the game if it was running or not until we saw it going. The Aviva is a bit more centralised, the city centre is only a 10-15 minute walk away and is well served with buses, rapid rail and taxis.

Joe McCarthy. I'm 32 and live in Dublin. I'm originally from Limerick, a city of about 100,000 people, 180km west of Dublin. I'm a computer programmer and run an Irish football statistics website in my spare time. I enjoy going to the gym, swimming when I can and play football with some work friends on Thursday nights, and tag rugby in the summer.