Their Euro: Andreas (4)
source: StadiumDB.com; author: michał

Before Euro 2012 he had never been anywhere east of Germany despite being a huge enthusiast of travelling. But though he spent only 24 hours in Lviv, Andreas had a great time.
StadiumDB.com: Was Lviv the only city you visited during Euro 2012?
Andreas Duck: A friend of mine called and told me he has a ticket for the German game. So I made a 24hrs trip to Lviv. It was a lot of fun and I would love to see other towns and other games. But we only had 24hrs and so we only visited Lviv.
Since you found out at short notice, have you encountered any trouble with travelling there from Germany?
I came to Lviv via air. I booked a ticket for the connection from Drtmund to Lviv and had a great flight with W!ZZ. It is a tourist airline, so you do not pay a lot for the flight but for every drop of extra service like a second bag. On my way back I took Lufthansa and got a flight to Munich. The terminal is brand new, or at least modern. Security and service are working fast, everything was good. Two things to point out. Positive: there was a free and fast WiFi. Very cool, no code needed so on my time waiting for the flight I could answer some emails. Negative: The waiting area is empty. There is one duty free shop, personnel is friendly but that's it. No Shops, no games, no nothing. Sorry, yes there is one bar where you can choose between meat or sliced meat on your sandwich (laughs). The Airport is small but modern, working great and was prepared for all the tourists who came to the Euro.
Was it your first visit to Ukraine? If so, did you have any specific expectations or fears?
Well, yes, it was my first time in Ukraine. I really love to travel. I have visited a lot of countries, have seen a lot of cities but, and I do not know why, I have never been to anything east of Germany. This was not a question of fear or preconception, it was more like I have never really thought about it. It was so close and when I started to travel it did not sound so exotic in my ears as Mexico or Trinidad Tobago did. I really expected nothing when I started my trip. I was there to see a great match. When I travel I try to get an idea of the culture and the people living there. I am not like a tourist only looking for the big streets and the "must sees". I am always searching for a soul a character of the destination. To find on, it is very important to keep your mind open for everything and do not start with too many or high expectations.
Now that you've returned, can you say how you see the city itself?
Lviv is a city of contrast. In the centre it looks like an old city with a lot of history, combined with a western way of life. Not every city has this kind of value downtown. But when you leave the inner circle it is like lviv has grown too fast. Houses, concrete everywhere, to fit all the people. there is nothing wrong about concrete high-rise but unfortunately they were not well-kept. Staying downtown it is a beautiful city and all the parks around the core makes it look like green one too, till you see the "ugly" concrete.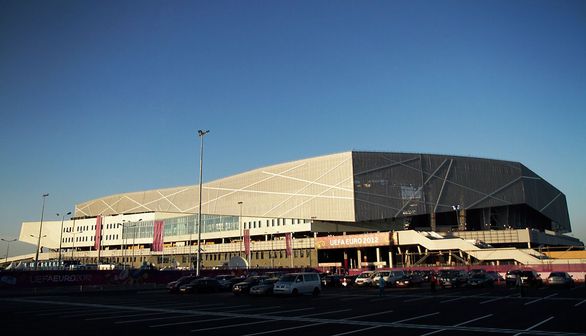 Photo: Andreas Duck
The people are very friendly, open minded and nice to talk to. Everybody wants to represent the country and they are a proud nation.
As said, the city is historic and moving west. Prices are different to Germany if you are looking at food, but on other stuff it is the same eg. special brands. But this may also be different if you are not downtown. in 24hrs shopping was not my major priority. The only thing strange were the different prices from taxi to taxi. On the same track the prices were bouncing between 4 to 20€. Strange. You can understand that within match days the prices may be a bit higher, but 400%, that's a lot.
Following German national team is anything special for you or you just decided to take a trip to Lviv as a tourist or sports enthusiast?
Well I am German and I have never seen a match of our nation. I love football, watch all the games on TV and to be there live, just the best thing ever. I have been to Switzerland in 2008 to watch Italy vs. France and in the 2006 World Championship I have seen Netherlands vs. Argentina. Both great games, but nothing compared to the game of my team in Lviv.
Transport to the stadium – do you consider getting there easy/hard? Did you need and get help? I know it's quite a long way.
Well it was easy. The bus started in the city and drove all the way to the stadium. It was a good atmosphere and we had fun. It was very hot in the bus but that was the only thing strange. The Way back was difficult. The roads where too narrow and the stadium too far away from anything so you had to wait, or find one of the few taxis. I got lucky and found a cab which got me back home but it would have taken for ever otherwise.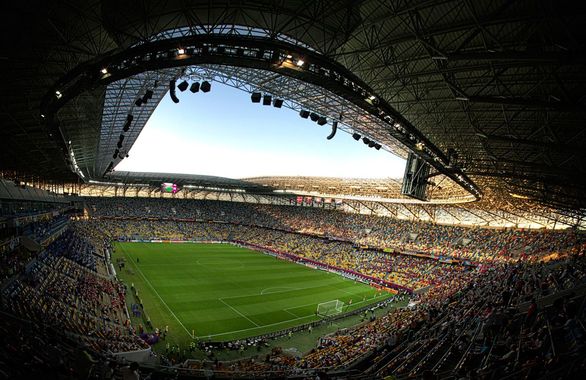 Photo: Andreas Duck
At the very stadium, how did you like the atmosphere?
The atmosphere was great, both teams sang all the way, it was great. Compared to German stadiums it was the same level and we had a good time singing and celebrating for our team. Everybody was peaceful and friendly and we enjoyed it. Nothing to worry about.
Any organization issues you would raise? Your overall image of the preparations in the city.
City was ok, a lot of volunteers. Denmark and Germany were peaceful countries. If it would have been another match there may have been too few policemen. I felt safe all the time, and really had a great trip to Lviv. The only thing they could do better is the situation after the game of getting the people home quicker. Building a railroad station or bigger streets for more busses or build something around the arena where the people can stay for a beer and/or wait for the next bus or taxi.

Andreas Duck. Born 1983 in Germany and live now in Münster. I am working in online marketing for a sports brand and love mostly all kind of sports. I really appreciate the team spirit and emotions of the games. I am looking forward to the Olympic games and want to see as much as possible though it is only on TV. I do like photography and try to capture emotions. In my blog www.lameduckfast.de (German) I present my sports and my pictures.