Poland: Work in Bialystok to restart in 3 days
source: Sport.pl; author: michał

Final countdown – or at least Jagiellonia supporters hope it to be that. It seems all obstacles have been overcome and work on the new 22,000-seater is to restart this week, Sport.pl announces.
We have just received the recovery plan prepared by OHL, says head of MOSiR (municipal sports administration) Adam Popławski. It states that construction along deadlines set in the agreement from May 23 is safe, Popławski adds.
Best news is probably the one about works restarting at full pace on July 20th. Municipality now has specific schedule allowing it to control progress month by month. This document is currently being analyzed and should be verified within the next few days. Below you can see current progress compared with rendering of how the venue should look in the end: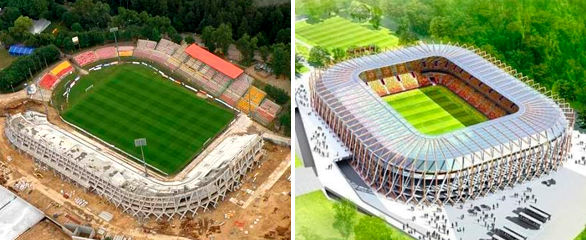 Also, the list of subcontractors is finally ready which was a problem in previous weeks, due to bankruptcy of Hydrobudowa, main contractor for the project. Since then Spanish OHL had to take over and sign new contracts with each company, which lead to delays.
Works have been halted last year after French consortium Eiffage was found attempting to lower its costs and leading to serious set-backs. Contract was terminated and new one was signed on May 23rd with Hydrobudowa who were facing their worst time at that moment, facing bankruptcy.
After these perturbations it seems the project is finally ready to set off again. First two stands which have their concrete skeleton standing already, should be finished in Spring 2013. The whole stadium to host over 22,000 people is scheduled to be finished in 2014.