New stadiums: Luxembourg
source: StadiumDB.com; author: michał

If a country has four clubs in European competitions and their champions manage to beat Red Bull Salzburg, there's absolutely no reason for us not to have it in our database. So, here is Luxembourg!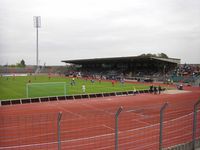 Largest and effectively national stadium of Luxembourg . Opened back in 1931 it now holds over 8,000 people on seats only and its shape is the outcome of 1990 redevelopment. Due to the highest standard in national football, it's most frequently used by clubs fighting for Champions League as well as the national team.
The name was given in 1993 after a famous local athlete, Joseph Barthel.
Old and outdated, but definitely very charming. First the old wooden gate and then partly wooden main grandstand on one side and steep concrete terracing on the other. This is obviously where vast majority of Differdange supporters meet.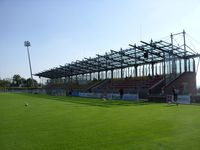 Until 2001 it was called Stade Holleschbierg, but this is when changes came both in the name and infrastructure with new grandstand. It comprises individual seats under a transparent roof, but is still seemingly less popular than the open terrace on the opposite side of the venue.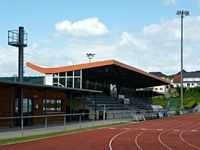 Built in 1983 it was renovated after 2006, when new façade paintwork and new seats arrived. What hasn't changed is that it has only one grandstand accommodating 562 people, while the remaining 3,500 stand around the pitch and running track.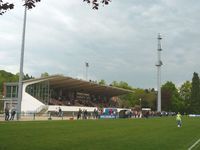 Opened in late August 1969 the stadium hasn't had any major changes until 2007, when new grandstand has been opened. To date this is the only structure in the stadium and though it can hold only 510 people, the capacity stands at over 3,000. Remaining viewers stand around the pitch where a two-step "terrace" is created.
Though it has only one stand, it satisfies the requirements of the players, officials and media.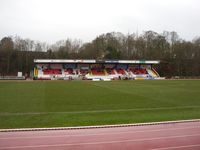 This football/athletics stadium is located in one of few "derby towns" of Luxembourg and serves the country's oldest side – CS Fola. Although official capacity closes to 4,000, only some 25% of spectators can count on a seat under cover. Others may stand around the pitch or sit on the natural slope alongside the playing field.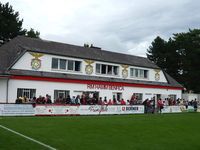 Club name is very interesting and the stadium itself is no different – though small, very charming one!
The plot designated to build a stadium was acquired in 1971 and in August 1973 the venue was operating. By 1989 new clubhouse was built as the ground was used by several different club. The more severe were results of a storm in 1990 that damaged the floodlights – restoring artificial light took 9 months.
Today the ground is used by FC RM Hamm Benfica, club created from four others, each having a long history.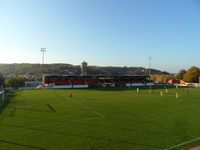 This small Benue with beautiful hills around is Home to Luxembourg's possibly most renowned club, F91 Dudelange. Due to frequent international use it has been transformed to have only seats, thus the low capacity that fell almost by 50% compared to that with terracing. It has two stands – main one with cover and uncovered slope with seats along the other side of the pitch.