New stadiums: Incheon, Changwon, Seongnam
source: StadiumDB.com; author: michał

If you don't know these cities, no worries. All you need to know is they've got really decent stadiums. Two have a running track and one is football-specific. Oh, how specific. Real gem, this one!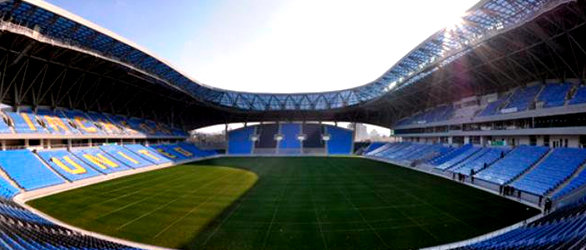 One of the most characteristic and rather outnumbered football-specific venues built in South Korea. Construction of this stadium started back in mid-2008, but due to delays ended no sooner than in early 2012. During construction the project, connected with large residential development, was called Sungui Arena Park, but since the opening it's usually referred to as Incheon Football Stadium.
With capacity just below 21,000 it's only the 4th largest venue of Incheon, but the only one dedicated to football. Sunce the planning stage it was set for Incheon United to move in since they were forced to use too large stadium built for the 2002 World Cup.
The current venue suits the club and allows it to grow as it has extensive commercial facilities. There are not only skyboxes, but also two restaurant terraces located in the corners. Most vocal supporters are located at a dedicated single-tier stand behind one of the goals.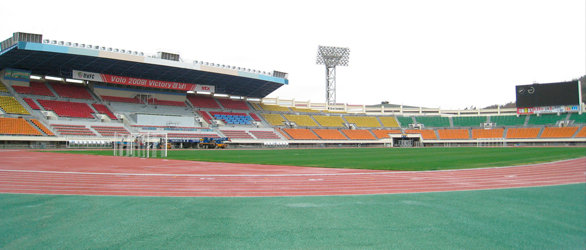 The opening that lasted two days (Mar 19-20th 1993) was preceded by over 3 years of construction works. The outcome was one of Korea's biggest and most modern stadia in that time, worth some 20bn KRW (then some $17,5m).
With one covered grandstand and all-seater mode with over 27,000 capacity it became host to numerous big events. In 2002 it was part of Asian Games, while in 2007 of the U17 World Cup. For 5 years it was also home of two local football clubs. Between 2005 and 2009 both Changwon City FC (National League) and Gyeongnam FC (K-League) played their games here.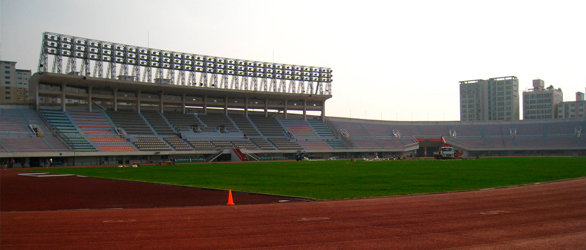 Construction of this venue was a very long one. Having started in 1974 it lasted until very late 1984. Since then it's always been the largest venue in the city, centerpiece of municipal sports complex. It's surrounded by other venues – indoor hall, amphitheater and a smaller training stadium.
Thanks to its capacity and reasonable standard it hosted K-League games of Seongnam Chunma since 2002. But as the club moved out for a smaller Tna Cheon Stadium, it hasn't been home to any football side.