New design: Yekaterinburg – practical instead of monumental
source: StadiumDB.com; author: michał

Initial vision was very impressive and spectacular. New one seems the very opposite. But maybe replacing fireworks with practical ideas will be the key to be selected by FIFA to host 2018 World Cup?
In 2010 German office Tim Hupe presented their concept of how the Central Stadium in Yekaterinburg should look. Monumental facades preserved, but overshadowed by massive additional tiers and an independent roof structure way above the ground.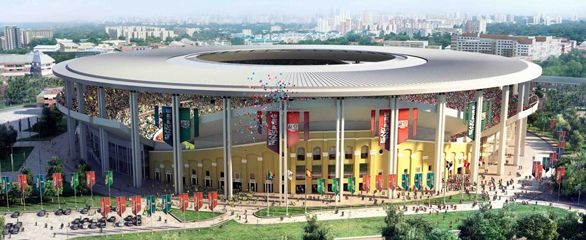 It was known already then that it's just a preliminary design to present to FIFA in Russia's bid book and the final outcome may differ a lot. In this case a lot should be replaced with 'almost completely' as the current concept is the very opposite – modest and simple. Only thing in common is the preservation of listed exterior of the building.
Main objective in the new vision is for all alterations to the structure being reversible after 2018 World Cup ends. Yekaterinburg's Central Stadium is privately owned by the Sinara Group who prefer not to have any permanent changes that was extensively renovated just last year.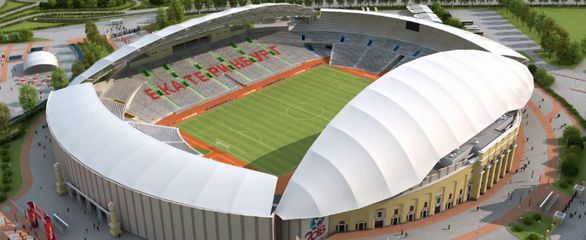 Sinara already announced it would not finance any works for the 2018 World Cup, but would enable such investment by Russia's Federal Government, should Yekaterinburg be shortlisted by FIFA when it comes to choosing host venues in September this year.
Providing the city makes it, what will change? First, roof, floodlight masts and video screens that are in place now will be removed. Secondly, stands behind the pitch will increase by 9,000 seats each thanks to temporary seating in front (over the running track) and at the back of the stands, making capacity exceed significantly the 40,000 minimum World Cup capacity. And last, new temporary roof over stands along the pitch.
Aesthetically this is far less impressive than the 2010 design and has its flaws – only partial cover and sightlines far from optimum. But then it also solves two problems: historical bowl from 1927 is to be retained with no permanent changes and with capacity back to 27,000 after the event, no fears of the ground becoming a white elephant or simply unsustainable.