London: Hoardings around White Hart Lane
source: http://www.tottenhamhotspur.com; author: michał

Not for stadium construction yet, but for Sainsbury's supermarket, construction of which is due to start in September. First come demolition works on existing building, though.
As the official website of Tottenham Hotspur informs, hoardings were set along High Road and Paxton Road as demolition of old buildings goes on, starting the Northumberland Development Project.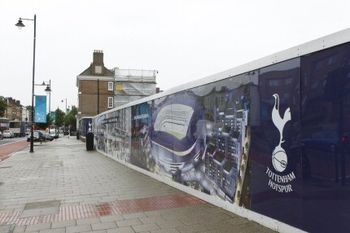 The fencing secures what will be a Sainsbury supermarket. Construction will start after cleaning the site in September.
The next phase will see the tender process begin for the stadium itself. We continue to work closely with the Mayor and Haringey Council as we look to deliver this major sport-led regeneration in Tottenham, the club declare.