Istanbul: One stadium per day (1)
source: StadiumDB.com; author: michał

Trying to see all of them with such criteria would take long weeks, but we had only 3 days, so discovered barely three of the most well known clubs. Come with us for this virtual review, first part of our European Football Fans Congress 2012 coverage.
Ahead of our trip to Istanbul we tried to estimate, how many stadia we can see during the brief stay. A maximum of 6 was the plan, but due to numerous activities of the 2012 Congress we barely got half way there. Well, at least we have one more reason to come back to this astonishing city.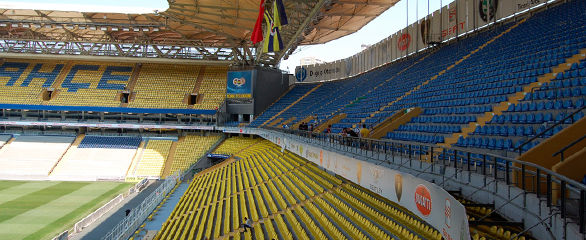 Both upper end stands have special podiums for capos who conduct support in these steep sections. Photo: StadiumDB.com
Largest league stadium, at least in terms of capacity. The Fenerbahce home ground in Asian district of Kadikoy is in fact a lot smaller than Galatasaray's new venue in terms of surface. Obviously fans of one team will emphasize one of these facts, while others won't forget the second one. So to know biggest advantages of each stadium we asked home supporters, while for disadvantages – their derby opposition.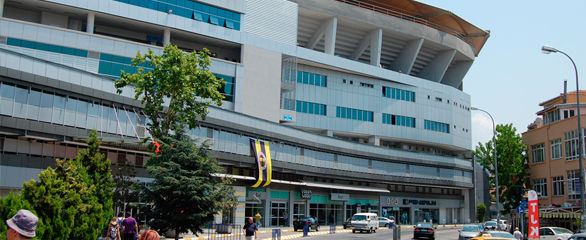 Sports store, car dealership, cafe, but no pub - alcohol is strictly forbidden within the stadium. Well, nearby shop and restaurant owners didn't complain... Photo: StadiumDB.com
And so apart from large capacity there's the impressive membrane roof over all stands, it's very compact and has quite some infrastructure under the stands, to name very nice club museum, shops and a car dealership.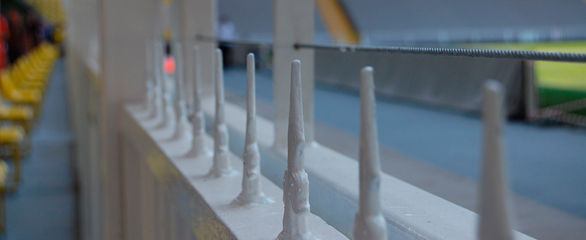 Interesting fences ending with decorative sharp blades have a telescopic part over it that is used only for fiercer games. To our knowledge that means almost all, though. Photo: StadiumDB.com
But then come other facts, starting with surprisingly low standard (lower tier rows are very narrow, barely allowing one to walk even when empty, upper tier is very steep, but with almost no barriers or railings to hang on to). For a stadium built not even a decade back, it already seems very much used and quality of the concrete work could be much better. Though we have to give Fenerbahce the credit as some of the works were actually done by supporters, which can only be a great thing!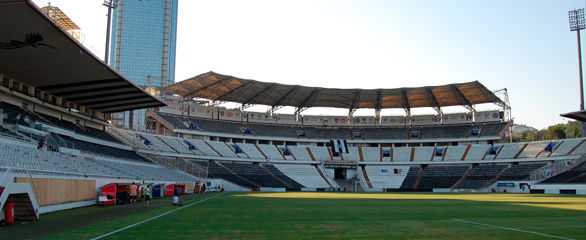 Rising to the west - Inonu has surely quite a unique form. Photo: StadiumDB.com
We don't know if anyone of the 400 participants has a different opinion, but as far as we heard it was only admiration expressed as we entered this ground. Currently the oldest and definitely worst stadium of the "Big Three" teams, it still has a great charm to it. And since its possible that Besiktas will only stay one more season here before demolition, any football enthusiast should consider booking a ticket to Istanbul. Even if only for this stadium, it's worth it! This isn't only our opinion, but also that of numerous Fenerbahce and Galatasaray supporters. Wonderful location, amazing view of the Bosphorus and a smell of history of Besiktas.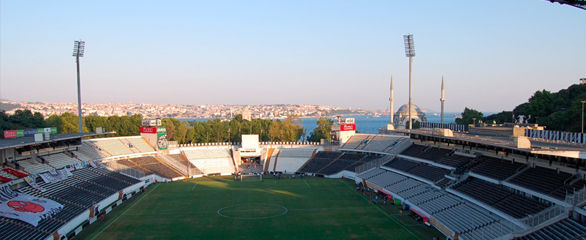 Third tier of the western stand gives a wonderful view of Bosphorus and is the one receiving most of the breeze in return. Photo: StadiumDB.com
But to spoil it a bit, it's not only history that smells as the inside is much dilapidated and should the club renovate it, it might be a lot more costly than actually building a new venue in the long run. So no wonder Besiktas already has plans for building something else in this location, especially that competing in matchday revenues with major league opponents will only get harder with new venues popping out all over the country, to name just the ones under construction in Bursa and Konya.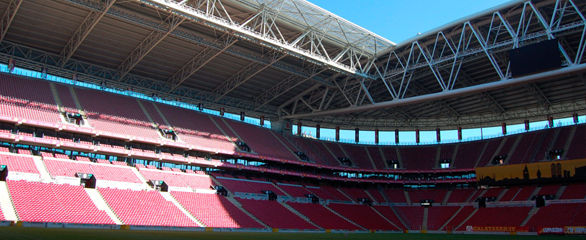 Steep auditorium, massive roof - this characterises the new stadium of Galatasaray. Photo: StadiumDB.com
Far from the historical centre a new start came for Galatasaray with the opening of the Aslantepe stadium. Officially Turk Telekom Arena, but for sentimental reasons fans prefer calling it either by the nickname of the hill (Aslantepe is The Lion's Hill) or Ali Sami Yen Arena, honoring the previous venue.
With large capacity and a freshly-set season-ticket record of over 40,000 this is Galatasaray's new pride. Will be even more when it gets the retractable roof that is planned to be built by the club (stadium itself was financed by Turkish government, which Besiktas supporters reminded everyone on many occasions).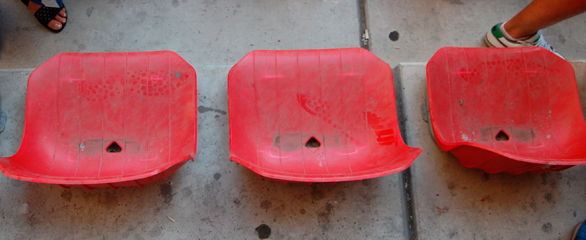 Seats in the most fanatic section aren't foldable as when they were, not many were left after opening games. Turkish fanatics tend to stand on their seats and so back to the old ones here. Oh well, lesson learnt. Photo: StadiumDB.com
Though built with public money, it's operated by the club and with quite some results – number skyboxes is constantly growing due to enormous demand with additional ones being built at this moment (already nearly 200 in total!).
Is that all good? Financially – yes. But then come identity problems Since fans refuse to use the official name and call for making it more supporter-friendly. One section had seats changed from more comfortable folding ones to those from old ground that are maybe less modern, but can be used to stand on, which supposedly is the common practice of most feverous support. Along with large flags, great acoustics and robust shape of stands this stadium surely has the potential to avoid being just another modern arena without much of a soul. A problem on the way can be seen with pyrotechnics that leave the ground in a mist of smoke since it's got a large roof and limited air circulation.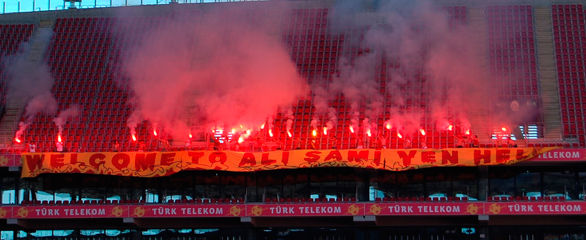 Though not the largest pyroshow ever, this one has made Galata's new arena a misty one for quite some time. Photo: StadiumDB.com
Bonus: R. T. Erdogan Stadyumu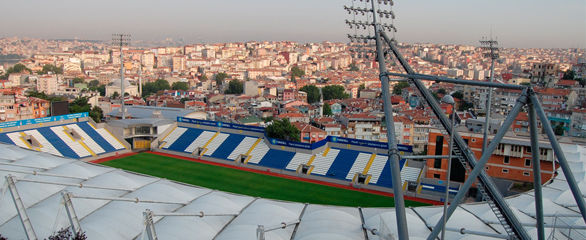 Two new stands have enclosed the venue once open to the sloping district. Photo: StadiumDB.com
Had to get up at dawn, but it was worth it. In the very poor district of Kasimpasa in Istanbul's strict center stands a ground that surely has to be among the most interestingly located ones. Just like thousands of houses surrounding it, it's incorporated into a steep hill, with some of the neighboring buildings being just a few meters away.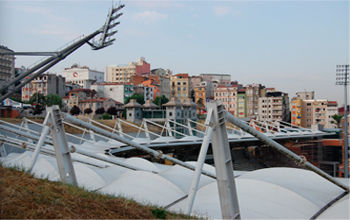 Local club, bearing the district's name, is Turkish prime minister Erdogan's favorite baby. He was after all born here and the ground is named after him. So no wonder that both Kasimpasa district and Kasimpasa club are being redeveloped with public money. As old wooden housing is being replaced by new estates, the stadium is currently under redevelopment. Initially the stands had a "J" shape, covering not even half of the perimeter of the field and running track. But now running track has been removed, pitch brought closer to the existing auditorium and two more stands were fitted in the created space.
To sum up briefly, if we were to name the world's capital of football, this one would surely be among nominees. And though would have to lose to London and Buenos Aires, Istanbul has so much to offer to football enthusiasts. If you've got a chance to go there, don't waste it! In the meantime we'd like to give our thanks to all the fantastic supporters of Besiktas, Fenerbahce and Galatasaray who have shown that not only they can work together, but they can also host a fantastic event for people in love with football! Not forgetting about the FSE organizers who have once again worked really hard to deliver a great Congress.