Istanbul: Manless games, discussions and Blatter's resignation (2)
source: StadiumDB.com; author: michał

There was so much going on that it's hard to put it together. But here we go with an attempt. The below article sums up some of the most important elements of European Football Fans Congress in Istanbul.
We already wrote about the stadium side of this event which was interesting as there are few events (if any) that take place on three stadiums day after day and aren't World Cups or European Championships. In fact, aren't even football. The 2012 EFFC wasn't football, though was all about it. And most of all, was organized by fans for fans. All the way.
Day 1: Stadium-based panel
Panel discussions usually have a few things in common. Apart from being quite serious they take place inside conference centres or universities. So for StadiumDB.com seeing one that was actually happening in front of a fanatic tribune was a nice change. Those in front of the auditorium of Şükrü Saracoglu Stadyumu's south stand represented a wide range of institutions connected with football and were asked to try and build a common vision for football. Since the panel had both governing bodies and supporters in attendance, this didn't seem all too easy.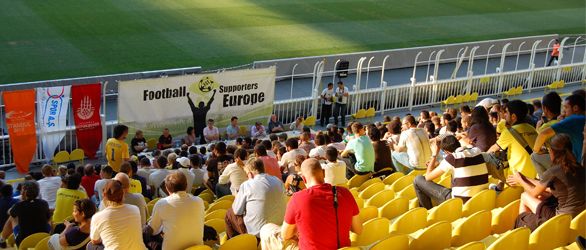 But it turned out most participants share one principle – readiness for dialogue. This is exactly why UEFA set the Supporters Liaison Officer requirement in current license regulations for European clubs – to convince clubs, that talking to their fanbases is crucial and should be used to build upon.
Since dialogue is needed also between fans and the police, which may be among toughest fields to build one, that problem was also part of the agenda. David Bohannan of the EU Expert Think Tank took a stand giving Poland's Euro 2012 experience as an example. Soft policing and readiness to negotiate and talk instead of use of force were key in successful hosting of the tournament, though surely not perfect. As Bohannan further declared, Poland and other countries now need to build on those great experiences to achieve best relations possible.
A possibly perfect case for fans Europe-wide may be the Norsk Supporterallianse, national association of football fans in Norway. Fans who can now legally set off pyrotechnics (though only in certain circumstances) and managed to increase the number of standing places in their stadiums. Of which we will write soon.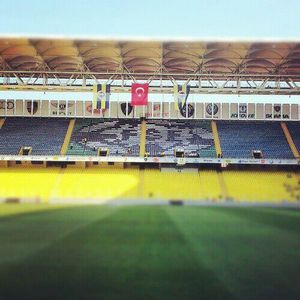 One controversial idea to make football a more friendly environment came from Turkey itself with "manless games". Turkish football association introduced this measure last season, replacing penalty of ghost games (with no supporters allowed) with games for women and children only. Overall 240,000 people saw 30 "closed" games thanks to this idea, which was seen as success by Ebru Köksal of the TFF. Still, since we're men at StadiumDB.com, we're not sure we'd like to be Turkish fans these days…
Apart from the great panel attendants were able to participate in a choreo workshop. Though putting cardboard pieces along hundreds of seats is quite a challenge, the final look of a choreography is so rewarding – even if with an empty stand (as seen attached).
Day 2: Workshops
On Saturday fans and authorities were discussing crucial issues to try and find common grounds both sides could build upon in the future. What's offensive inside a stadium? Why are penalties sometimes seen as disproportionate with little transparency into decision making? Why aren't fans in most countries allowed to stand at games anymore? How far does match-fixing go?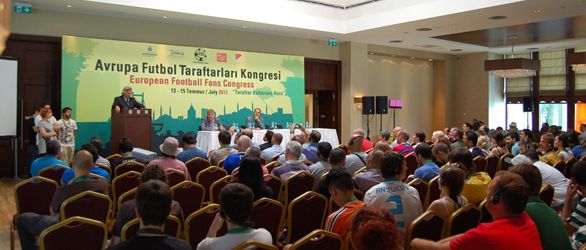 Talks on each of these subjects went for hours with various outcomes. It would be hard to believe that UEFA will change their approach with "no swearwords" policy after hearing out supporters, but on the other hand head of stadium and security Mark Timmer had to admit that some decisions by his institution aren't clear or may not be seen as well grounded.
Day 3: Sepp, please leave
Last Day of the Congress was probably most import ant for Turkish fans who should be the ones to benefit most from that event. First times ever Galatasaray, Fenerbahce and Besiktas worked hand in hand to host one event and fans from various clubs nationwide came to Istanbul to meet in one room and discuss common issues, starting first ever nationwide network in Turkey. Seeing fans of Besiktas and Bursaspor at one table is great itself!
Then during Football Supporters Europe annual general meeting decision was made (worth mentioning: vote was unanimous) to appeal to Sepp Blatter. After Swiss Supreme Court revealed documents putting FIFA president in a bribery scandal, FSE members asked Mr Blatter kindly to resign. Not that he was expected to listen after years of ignoring criticism, but making this stand was seen as important sign of demand for higher standards.