Cardiff: Millennium Stadium repainted for the Olympics
source: walesonline.co.uk; author: michał

Officially the Olympics will take part in London, but some of the events are spread throughout the UK. Cardiff will take 11 football games and for that occasion the largest venue is refreshed, WalesOnline.co.uk informs.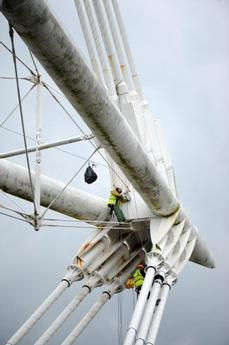 When the Millennium Stadium was opened in 1999, its impressive 90-meter tall pylons were snow white. But as time went by, dirt and even vegetation started to appear. For the upcoming Olympic events the initial colour have been restored.
As the conditions are very challenging, operation of laying 120 litres of new paint was done by three abseiling workers, each of whom were able to work for 4 hours high in the air.
Apart from this minor facelift Millennium Stadium also got new parking spaces. Some of the facilities are temporary, like matting in Sophia Gardens, but other lots are there to stay and serve local residents on non-matchdays.
The stadium will be hosting 11 Olympic football matches until August 10.