Belgium: Anderlecht gives CVDS a makeover
source: rtl.be; author: gutek / michał

Not a big one so far, but all seats were changed with extra media and corporate facilities following. It cost €3m, decreased capacity, but should still allow the club to earn more, Belgian RTL Sport reveals.
Summer season break got Anderlecht very busy with their Constan Vanden Stock Stadium. Old seats are history with all of them being changed for folded ones, this time solely in purple and white colours. Seating was installed also behind goals where people traditionally stand. There, however, club invested in combo seating that allows one to create both standing and seating section depending on occasion.
Additionally, to increase comfort and safety, access routes have been widened. Then come extra 651 VIP seats, new press section and conference room inside the main stand. All this resulted in capacity falling slightly, to around 21,500.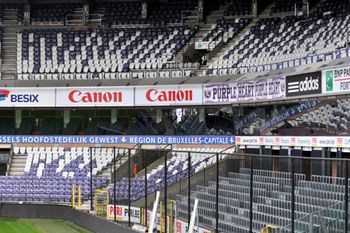 The redevelopment addresses UEFA's concerns raised each time the club was to host an international game. But there's also high demand for business seats that pushed the club to expand this kind of facilities. As a proof, despite €3,500 per business seat, the club had already sold out its premium allocations within 2 months.
Complete cost of the redevelopment is estimated at €3m, but as Anderlecht's executive director Herman Van Holsbeeck claims, the club won't have to worry about any Champions League requirements in the next few years.