Poland: Stadium comedy goes on in Katowice
source: Sport.pl / StadiumDB.com; author: michał

Three more months will architects work on final design of the new Katowice stadium. Their previous deadline passed on Tuesday, but only now people have been informed, which variant they're working on – Sport.pl reveals.
Katowice, the centre of 3,5-citizen conurbation in Southern Poland is still struggling with new stadium design. It's been two years since initial concept had been presented to the public, raising huge controversy over aesthetics and practical issues (like doubtful protection from elements). The concept, changed several times by Poznan-based Modern Construction Systems architects, was finally given to another company – Bauren from Rybnik.
Bauren has been working on it since late 2011 and in January 2012 they showed a modified version of previous MCS concept to supporters of GKS Katowice. Along with it they've shown a second option, newly designed bowl with yellow-black facade. Fans went for the new one and so did the municipality.

Variation over the initial concept by MCS, reconfigured by Bauren. Image: Bauren / UM Katowice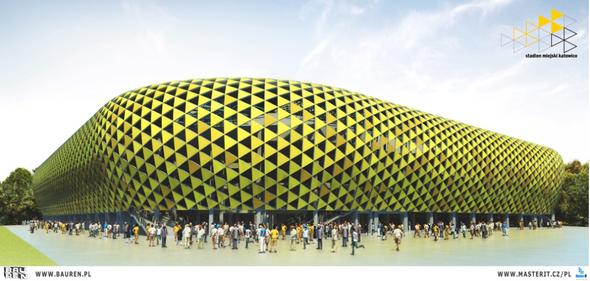 New vision prepared by Bauren allowing for the first one to be dropped. Image: Bauren / UM Katowice
Despite having ordered to work on one of the two concepts the city still held social consultations or at least pretended that the voice of both citizens and councilors is of any importance. However for the whole time Bauren has been working only on one vision and as Piotr Renke (Bauren's president) declared, he could not imagine any change being made as to preferred direction, thus making the consultations pointless.
Bauren were due to deliver full documentation until June 19th. The company failed to meet this deadline, but it comes as no surprise as already in March the works were late by 2 months. Renke claims it was the municipality's fault as accepting the preliminary concept took city officials exactly 2 months.
Current deadline for final documentation is set at September 19th and the city hopes work gets done by then. However no actual construction is expected to start soon as Katowice haven't got necessary funding secured after having dismantled first stand (north) of the GKS stadium. The ground, expected to be built in several phases allowing constant use, for now remains a rather distant dream.