Poland: New stadium construction to start in a week
source: DziennikLodzki.pl / StadiumDB.com; author: michał

Despite protests the Lodz municipality are set for groundbreaking on July 2nd. New stadium for 16,500 people and an indoor arena should be ready by Spring 2014 – "Dziennik Lodzki" reports.
Major redevelopment of the dilapidating municipal stadium at Unii Lubelskiej Ave. in Lodz has been announced for years with no actual works happening.
But now things are already changing as equipment is being removed from the venue to leave bare stands that will await demolition. Numerous seats have already gone, floodlight masts were partly detached just today.
Official groundbreaking is planned for Monday, July 2nd. However, as the works are already ongoing, two groups launched protests to stop the process. First is the local tennis club that will have to fold as it's just next to the stadium and the courts are municipal. Then come ecologists who want to save trees that need to be removed as well.
The municipality assures no protest will delay destruction and construction of the new venue. Lodz vice-president Marek Cieślak assures that while some trees have to give way at the site, others will be planted in different parts of the 1,5-million agglomeration.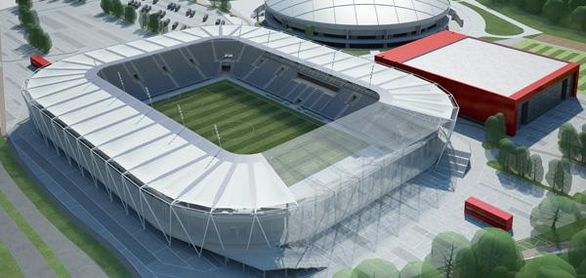 Also, he finds the court-tenants' protest unjustified and fears crime may have been committed by the tenants. It came out during preparatory works that the tennis club was using water from an illegal link to the city's pipelines.
If all goes as planned, new municipal stadium is to be ready in March 2014. It will initially accommodate 16,500 people on three stands with the fourth one to be built only if private funding is secured (raising capacity over the 20,000-mark). Next to the stadium a 3,000-indoor hall will be built and completing the complex is the already built oval Atlas Arena.