New stadiums: Prague, Jihlava
source: StadiumDB.com

Two goals by Czechs, so two new stadiums from the Czech Republic. Wasn't all the way we planned, but despite Poland only drawing with Russia you may still have a look at these very nice venues.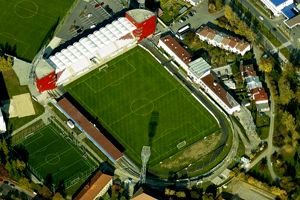 One of the most distinctive stadiums in Czech Republic. The unusual shape is created by original floodlight masts, completely different stands alongside the pitch and different ends – one with curve and one with a new stand that has two pavilions in the corners. The latter stand is phase one of what should become a completely new venue in a few years.
Thanks to its decent infrastructure this stadium is only the third ever outside Prague to host Czech Cup final (2010/11). On regular basis it's home to FC Vysočina.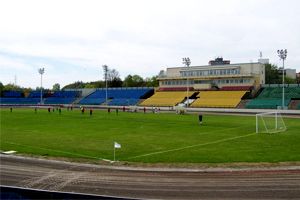 Today known as Stadion Markéta, the venue has served local side Olymp Praha for decades. Apart from speedway – which currently is the biggest sport at this address – also footballers of Olymp play their games in one of the lower leagues here.
Initially it was built as an athletics stadium, while motorcycles were racing in Strahov. However in 1970's speedway settled here, making the stadium grow to be Czech Republic's most important ground of that discipline. Domestic and international races are taking place here.