New design: Crater complex in Ethiopia
source: StadiumDB.com; author: michał

Massive, but cheap. Modern, but very traditional. These are just a few things you can say about this design that just won international competition in Addis Ababa. A national stadium to be proud of is coming.
Federal Sports Commission of Ethiopia chose the joint bid of LAVA, Designsport and JDAW and their proposition of erecting several craters in the middle of the 3,3-million metropolis of Addis Ababa.
The buildings, to form national sports complex in the future, will take from traditional Ethiopian excavated architecture and just as it happened for hundreds of years, this time also land excavated on site will be used to arrange landscape and be part of the new structures.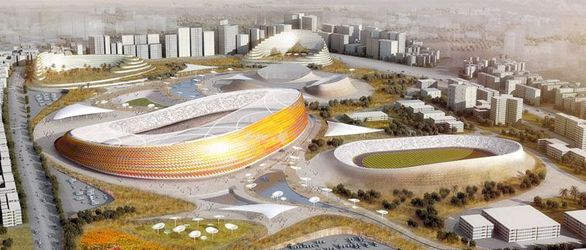 Photo: LAVA
We have gone back to the very origin of stadium design with a sunken arena surrounded by grandstands formed from excavated material. This man-made crater is a clever remodeling of the existing terrain and generates efficient spaces, optimizes environmental performance, minimizes construction costs and integrates facilities within the existing Landscape said LAVA director Chris Bosse.
Not expensive, but it surely won't be primitive as the traditional part gets combined with modern infrastructure. Central stadium of the complex will have 60,000 seats on three dynamically shaped tiers, encircling the pitch and athletics track. All this will get partially covered by translucent roof and naturally-colored mosaic facades.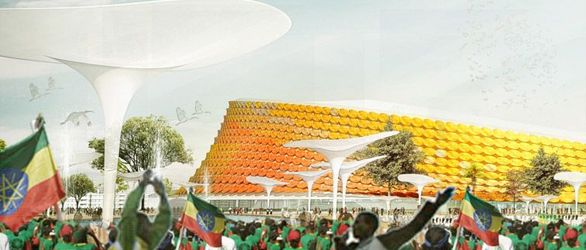 Photo: LAVA
Apart from the central stadium a secondary one is to be built along with indoor and outdoor natatoriums and sports halls. Then comes the new building of the Federal Sports Commission. All buildings will get connected by a central plaza with shade and fountains. Overall, the complex is to cover 60 hectares.
Construction is expected to start in 2014.