Euro 2012: Pick up your Fanguide
source: fanseurope.org; author: michał

If you're using the web to prepare for Euro 2012 excursions, we recommend our database and Venue Guide. But if you find yourself in the streets and need assistance, pick up a Fanguide 2012 from your nearest Fans Embassy.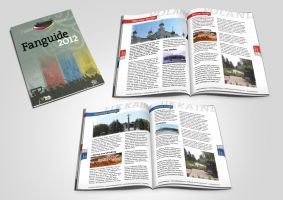 In all 8 stationary Fans' Embassies (one in each host city) you'll find the Fanguide 2012, a booklet created by supporters for supporters. Insider's knowledge, fan culture awareness and huge effort to translate it into 15 languages (!) so that everyone watching visiting during Euro 2012 find an edition for himself.
What you'll find inside is the guide to your local host city, the fanzones and all the necessary information, including emergency numbers and locations. There are 90,000 Fanguides and another 45,000 of pocket maps to pick up free of charge, all available at Fans' Embassies that are always located close to the "epicenter" of Euro-related events. Below you'll find addresses where you can get your piece.