England: Fans are starting to speak up
source: StadiumDB.com

Already when Lord Justice Taylor was writing his report on the Hillsborough disaster, he noted that supporters are sometimes treated in ways no-one should put up with. Years later fans are starting to speak up. Amanda Jacks reads all their complaints.
StadiumDB.com: Banning orders, overzealous stewards or police officers, disproportionate use of law – we read about some of the cases in your publications, but you also write that those aren't all. How many complaints do you receive at the FSF?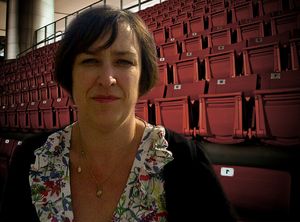 Amanda Jacks: Two matches this year attracted over 150 complaints between them about the policing and crowd management. This is unprecedented. English supporters have what I call an "expect and accept" mentality when it comes to how they're policed and stewarded and rarely challenge their experiences for a variety of reasons, the complaints system is lengthy, they think they will attract police attention or that their club will ban them. On the whole these fears are unfounded and very slowly we're noticing a change whereby fans are becoming more aware of their rights and that perhaps rather than put up with, say, being held in a pub before a game, they're slowly starting to challenge such actions. We receive several complaints a week but from reading the message boards of many clubs we could be dealing with a lot more if supporters were more inclined to complain.
If fans are refrain from complaining, could it be they don't want to risk further problems? The story of police forcing Tottenham fan to admit guilt in what seems a rather trivial case springs to mind.
We have had several instances this season when supporters have had grounds to make a complaint against the police but have declined to do so because they fear drawing unwarranted police attention, such as being stopped, questioned and filmed. I can't comment as to whether or not their fears are genuine, but they appear to be commonplace among those who feel their treatment at the hands of the police is excessive.
When supporters plead not guilty to charges, to the best of my knowledge they don't come under pressure to change them.
And which issues are raised by fans most often, to your knowledge?
Overzealous and disproportionate policing , heavy handed stewarding and when clubs ban supporters without putting them through a due process. Too often clubs act as 'judge, jury and executioner' and ban supporters without listening to their version of events.
Is there any official procedure of reacting when someone feels he's being mistreated by his club or the police or is it just complaints being written to you seeking support?
Yes. There are guidelines that supporters can follow when making a complaint against a football club although these tend not to be widely publicized. Firstly, the complaint should go directly to the club who should reply as per their customer charter. If the supporter is not happy with the complaint he can then refer it to the appropriate League or FA (if a Cup game). If resolution still cannot be found, then the final step is to refer to the Independent Football Ombudsman for him to adjudicate.
There are similar guidelines for complaints against the police which are detailed on their websites. We also have an Independent Police Complaints Commission although in some cases they will refer a complaint back to the police service against it was originally made.
In some cases, the grievances result in civil legal action against either a football club or police service.
Some time ago we talked to Dr Stott and he named several places where policing is said to turn 'ugly' at times, opposed to other locations where the approach is friendly and so is the atmosphere. Would you also name any specific places that may be an example of how to and how not to secure a football game?
I'd rather not! There are areas where the policing of football has a better reputation than others but the experiences of supporters is that they can have a good or bad experience anywhere in the country. Dr Stott is speaking from an academic perspective and while I certainly wouldn't disagree with him, I'd rather not comment specifically.
'Persistent standing' as an offence used to sound abstract to Polish fans, but nowadays more clubs here put this point in ground regulations. Is this a real issue in the UK or do clubs and fans find ways for a reasonable compromise?
It is a very real issue, see our safe standing campaign! However, more clubs are turning a blind eye to standing in certain areas of the ground. And away fans can find on arrival at clubs stewards tell them to sit where they like meaning the standers and sitters easily sort themselves out. We are making good progress in our safe standing campaign.
In case some of our readers don't know it, could you please give a brief introduction into what you're fighting for?
We simply believe every fan should be given the choice whether to stand or sit during games. We don't want to force anyone to stand up, we just hope to find a solution for those who never wanted to sit down in the first place. Lord Justice Taylor said decades back supporters would soon get used to sitting down. Anybody that's been to a football match or watches football on the television knows that quite clearly isn't the case. So what we promote is safe standing – we don't want to reintroduce the old terraces, but introduce a new, proper and safe solution. Not all around the stadium, but in some sections where standing spectators would not disturb the ones sitting behind them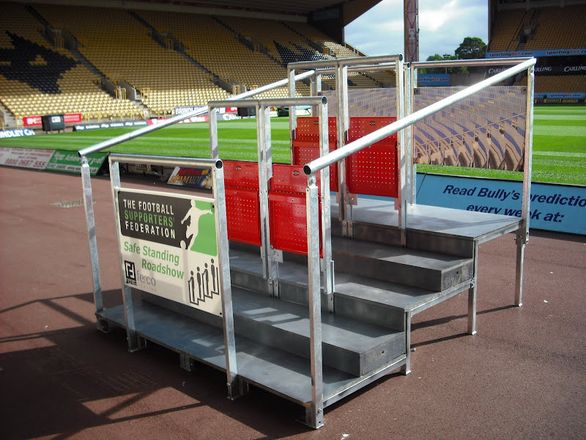 Safe Standing Roadshow is aiming to show English supporters that standing may be a safe solution. Photo: FSF
Our proposal is what we call "rail seating" that is widely used in Germany and several other countries. It's primarily for standing as fans have a waist-high rail in front of them, but there's also a seat installed in it so if a UEFA game is to be played (where standing room is not allowed) the groundsmen can easily transform the venue into an all-seater with no extra cost. and with right pricing policy it can mean extra revenues to clubs that choose to use this feature as for every two people seating you can fit 3 people standing.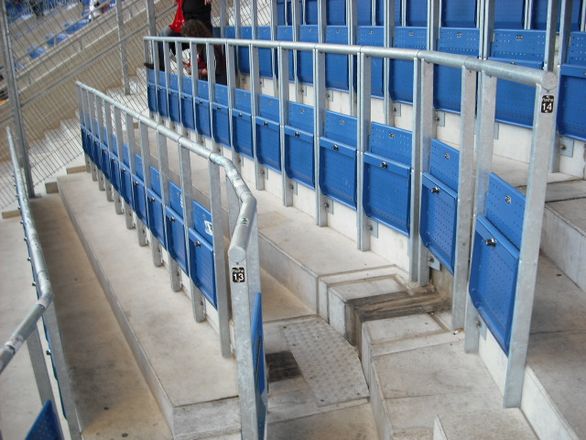 This is how similar section looks in Hoffenheim, Germany. Photo: FSF
Years after the infrastructural and legal revolution inside British grounds in 1990's the list of banning orders is still quite high, even though police claims this measure to be effective with few of those convicted being caught twice. So are there still so many hooligans in England?
I would disagree that the numbers are high, in fact they are statistically very low. I would also say that there are other contributory factors to the changes in supporting culture such as the demographic of match going fans changing dramatically. Yes, there are still hooligans, but they know the consequences of causing trouble inside grounds meaning that if there is trouble it is away from the grounds. However, such incidents are, thankfully, few and far between.
But when they appear, they make news headlines even here in Poland. Do you still observe the very negative stereotype of a football supporter in English media?
On occasion, yes and the reports tend to be sensationalist. Also, the media are quick to report on "hooligan" stories but slower to report on other issues fans face.
_____________
Amanda Jacks – working for the FSF (Football Supporters Federation, largest fan organization in the UK with over 180,000 members). Member of the National Council and Case Worker, dealing with supporters' issues daily.