England: York Stadium delayed further, opening in 2018?
source: BBC.co.uk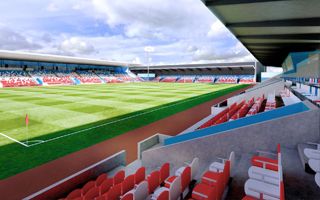 It was due to open this year, then in 2017, but may not be ready until mid-2018. Also, its final price will be significantly higher than expected. A BBC report.
The 8,000-capacity York Community Stadium was originally forecast to cost £37m and open in 2016, later in Spring 2017. However both the cost and timing had to change. Price first went beyond £41m and now is expected to reach £44.2 million.
York City Football Club said despite the "frustrating" wait there was now "room for optimism". Jason McGill, York City chairman, said: "It's in the hand of the executive now and there is room for optimism.
"From a football club's point of view, we will be looking at using the stadium for games at the start of the 2018/19 season and pre-season matches in July to open the stadium."
The council's contribution to the scheme is now more than £14m, compared to an original estimate of £8m, which it planned to borrow.
The authority's executive is to be asked to approve a further £5.4m of borrowing and provide £1m from its venture fund to bridge the gaps at a meeting on 17 March. The stadium, which will be home to York City Football Club and York City Knights Rugby League Club, was first proposed in 2009.