Europa League: Warsaw final tickets on sale
source: UEFA.com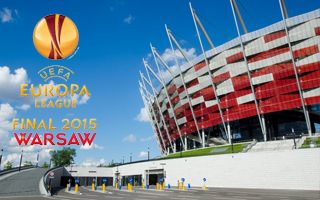 UEFA launched open distribution of tickets for the Europa League final in Warsaw. Applications may be filed until March 25 and then subject to lottery.
The ticketing system for Europa League final was launched today. Roughly 30,000 tickets are up for grabs as UEFA will distribute 52% of Stadion Narodowy's capacity among neutral ticket buyers, not representing affiliation with any of the finalists. Both finalist clubs will receive their portions of tickets separately.
The system will collect applications for one month, until March 25. Regardless of when each application is filed, all will be subject to a lottery draw, results of which will be revealed by April 10.
One person may apply for up to 2 tickets in four pricing categories. Cheapest tickets will be available for the upper ends (€40), while lower sections behind goals are priced at €65. Corners and both longer sides are priced at €90 and €130, respectively. Only two discounts applied by UEFA are for physically disabled viewers (€40 for one wheelchair and guardian) and families (1 adult and 1 child under 14 for €80).
The Europa League final will take place on May 27, at 20:45 (CET).