Cape Town: New managing company for Cape Town Stadium
source: iol.co.za; author: michał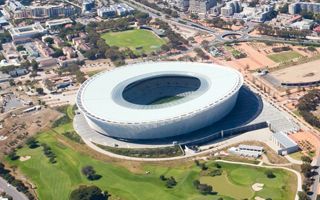 Yesterday saw the city council vote in favour of establishing a municipal entity to operate the stadium built for the 2010 World Cup. Last-minute effort to give it away was dropped.
Ahead of the 2010 World Cup perspectives weren't all that bad. Sail de France, subsidiary of Stade de France, was expected to take over and operate the 55,000-capacity stadium. The French operator soon backed out, leaving the city of Cape Town with a stadium that has no tenant.
Yesterday Andre Fourie of the Freedom Front Plus proposed that the council enter into discussions with the rugby union to sell it the stadium for R1 as an incentive for them to sell their Newlands facility. That proposal was rejected by majority of the council, with only 2 votes in favour.
Green Point ward councillor Beverley Schafer said the city had to adopt the best model, which was to allow a municipal entity to manage the stadium with primary tenants. This means the city will control the majority shareholding and monitor service delivery of the independent organisation.
It should take about 18 months to establish the municipal entity. The city would also need a new environmental authorisation for the stadium and apply for new zoning rights that would allow for commercial activity. These processes would also take just under two years.
The stadium, which cost the city R4.5 billion to build, has been running at a loss since Sail de France ended its contract with the city to manage the venue. In May last year, its revenue was only R92 million, while the operating costs were running at more than R400m.