Lille: First event with half of the stadium converted into indoor arena
source: info-stades.fr; author: michał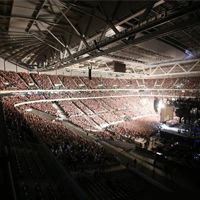 This is an unprecedented solution, used first time here in Lille and on Saturday it was given its first event test. Half of the stadium was converted into a closed arena to host Rihanna.
When the new Grand Stade in Lille was under construction, it was to be a breakthrough exactly thanks to this feature. Retractable roofs aren't new anymore, but football pitch that can be 'folded' in two was never used before.
In reality the folding is an advanced process, during which the 5,000-ton platform under half the pitch is moved up and then slides atop the permanent part of the field. Under it 2,200 seats are hidden.
Together with mobile roof and curtains dividing the stadium in two, this solution enables the stadium to be converted into an indoor arena of 27,000 capacity (arguably biggest in Europe, when not counting full-sized stadia). On Saturday it was used for the first time and passed the test, seeing a sell-out crowd for Rihanna concert.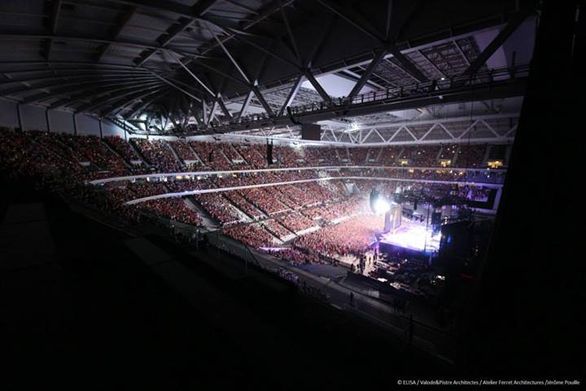 Worth mentioning, the solution took some skepticism while under construction, due to fears of impeding pitch quality for football. However it seems the quality is only slightly influenced in several areas, while the solution is a lot cheaper to implement than a regular sliding pitch, like the one in Gelsenkirchen.