New design: The world's largest transparent roof?
source: StadiumDB.com; author: StadiumDB.com team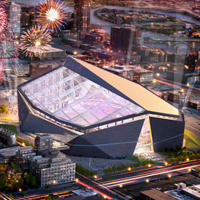 "Clear is the new retractable", said Bryan Trubey of HKS Architects during yesterday's presentation of the final vision for Minnesota Vikings. But the truth is less visionary – retractable roof was more expensive than one covered with glass.
It's going to hold 65,000 people with ability to grow further. Seating layout will see up to 5 tiers, allowing for maximisation of corporate seating revenue. But the proposed bowl should also work fine for baseball, as lowest tier will have some mobile sections.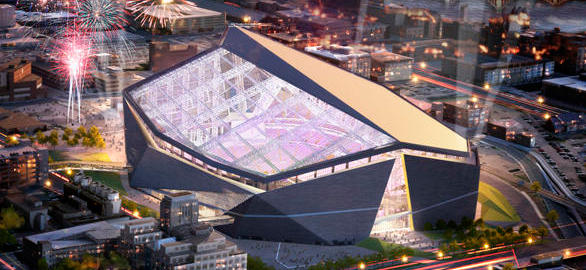 The new stadium will replace Metrodome, located at the heart of Minneapolis. For now the name is Vikings Stadium, but naming rights deal is expected before opening. In all fairness it's not even a stadium, it's a regular indoor arena. That's because the plan of fitting retractable roof in the design didn't go well. Instead a partially transparent, but permanent cover will be installed, expected to be the largest of its kind globally.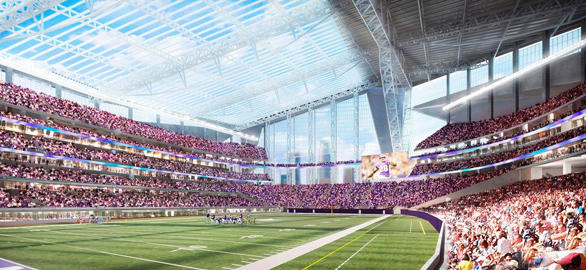 Design team leader Bryan Trubey may have said during yesterday's presentation that "clear is the new retractable", but it's quite clearly not. The project would simply go beyond budget with a retractable one, while current estimates of $ 975 million aren't final.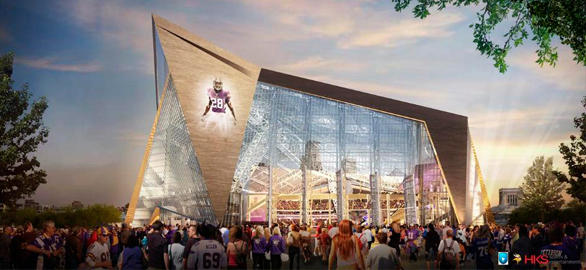 What HKS Architects were able to "save" from their previous declarations is the retractable glass wall on the north-western side, literally opening the stadium for towards the skyscraper district.
Is the final vision better than the two presented initially to give HKS the design contract? Judge yourselves.