Perth: Large project moving forward
source: ABC.net.au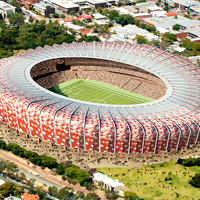 Preparatory works are to start in June, while actual construction should begin in late 2014, at the latest. Three large consortia expressed their interest and are expected to submit official bids in November.
Though construction hasn't even started, we're already 7 years into the new Perth Stadium saga. Initially set to be located in Subiaco, the 60,000-seater will in the end get built in Burswood, east of central Perth.
With the presented rendering being an early drawing and not really showing the planned stadium, , most data apart from the location is still based on expectations rather than facts. Budget is set at massive AU$ 1.1 billion (€888 million, $1.16 billion), but will be subject to changes, once contractors submit their offers.
Currently three large consortia are in the run for this large project: WESTADIUM (led by Brookfield Financial and John Laing), Confidem (led by Capella Capital) and WestAdium (led by Bouygues and Plenary Group).
They are now in talks with Government of Western Australia over expectations and have time until November 2013 to submit their final bids, including design, budget and construction data.
Meanwhile, the contractor for preparatory works on site has been selected already. The Ertech Keller joint venture is expected to run 18 month-long preparation of the wetland Burswood site. Work is to begin in June, allowing for actual construction to start in late 2014. New stadium is due in early 2018.
Below you may find images that were used so far to suggest the expected shape of the stadium: